OLDER 2015 BLOGS
WELCOME TO THE OLDER BLOG PAGE
WE'VE COVERED 1000'S OF EVENTS IN THE PAST….
OLDER BLOGS
THE ESSENCE FESTIVAL IN NEW ORLEANS
MY MY MY~~ UFE-TV ACCESS was mos def granted to experience the 2015 Essence festival.  We had the opportunity to attend both the day and night events. It was our 1st time there, and mos def not our last. It was UNREAL!!! We had a blast in LA the week before seeing so many celebrities out there.. then to turn around and see the many other celebrities at the Essence Festival.
We attednded the press conferences, the empowerment seminars for women, all of activities they had in the convention center were countless, and the fun, food, drinks, and networking was insane! This was Thursday to Sunday. We also attended the W.E.N. event which was super aawesome, and then came the night events at the Nola Superdome! Yooooo, the networking that was in that building all 3 days was ca-ray-zee!! If you have not been to NOLA on 4th of July weekend, at least go once so you can have this experience in your memory frfr! If you decide to go next year, make sure you stay for at least 4 days. You also have t experience Bourbon Street, and the casino.
Per Essence Festival:
ABOUT THE ESSENCE FESTIVAL
2015 ESSENCE FESTIVAL REACHES A RECORD NUMBER OF FANS OVER FOURTH OF JULY WEEKEND
Nearly 500,000 Attendees Live in New Orleans Joined By Tens Of Thousands More Around the World
Via 100 hours of Live Stream Programming
(New York, NY) – Nearly a half million attendees converged upon New Orleans this Fourth of July weekend for the 2015 ESSENCE Festival, one of the country's largest live events.  The annual 4-day Festival, which took place July 2-5, features entertainment, empowerment, and cultural experiences during the day and the world's best performers each night.  In addition, for the first time this year, the ESSENCE Festival touched tens of thousands of fans around the world via 100 hours of produced live-stream content.  Highlights of the 2015 ESSENCE Festival include:
More than 80 performing artists–including some of the biggest names in the entertainment industry such as Kevin Hart, Usher, Mary J. Blige, Missy Elliott, Common and Kendrick Lamar—performed at the event's nighttime concerts.
Over 120 speakers, authors, leaders and celebrities -–including Deepak Chopra, Iyanla Vanzant, Steve Harvey, Keke Palmer, Kelly Rowland, Jussie Smollett and Rev. Al Sharpton—participated in the Festival's free daytime experience.
Inaugural ESSENCE Festival 'Day of Service' commemorated the 10th anniversary of Hurricane Katrina by refurbishing schools citywide and staging a first-time community Health & Wellness Fair.
100 hours of programming including 24 hours daily of streaming video garnering over 200,000 Live Stream views covering select performances and daily talk showESSENCE Live.
Over 100,000 social media posts driving over 1.5 billion impressions with trending status on Facebook, Twitter and Instagram, as well as first-time Twitter Periscope celebrity guest segments.
Explosive growth in Festival fan mobile usage, with page views up by 80% and unique visitors growing 132% year over year—largely due to 80% increase in video consumption year over year.
For a full recap of all the exciting moments from 21st annual ESSENCE Festival, visit ESSENCE.com and log in to the ESSENCE Festival microsite for footage highlights.
The 2015 ESSENCE Festival is executive produced by ESSENCE Festivals LLC, a division of ESSENCE Communications Inc. (ECI), and produced by Solomon Group. GeChar is the executive producer of the 2015 ESSENCE Empowerment Experience and ESSENCE Empower U.  Sponsors of the 2015 ESSENCE Festival include presenting sponsor Coca-Cola and major sponsors Ford, McDonald's, Samsung, State Farm, Verizon, and Walmart.  Superlounge sponsors include Coca-Cola, Ford, Verizon and Walmart. The All-Star Gospel Tribute is sponsored by Walmart.
>>>CLICK HERE To See Full Album<<<
///////////
>>> CLICK HERE TO VIEW ALBUM<<<
CHECK OUT AN EXCLUSIVE CLIP FROM DREAMWORKS ANIMATION'S: "HOME"
CHECK OUT THE CLIP: CLICK HERE
Directed by Tim Johnson (Over The Hedge, Antz), HOME features the voice talents of Golden Globe® and Emmy® winner Jim Parsons ("The Big Bang Theory," The Muppets), Grammy® winner Rihanna (Battleship), Oscar® and Emmy® winner Steve Martin (The Pink Panther, Father of the Bride) and Golden Globe® nominee Jennifer Lopez ("American Idol," Maid In Manhattan).
"HOME is smart, fun and funny" proclaims Bill Bergoli of CBS Radio. A hit with audiences and critics alike, the film received an outstanding audience reaction with a coveted "A" CinemaScore®.
The HOME Blu-ray 3D™, Blu-ray™, DVD and Digital HD feature a Boov-tastic party of never-before-seen bonus features that will persuade the entire family to get their groove on, including "Oh's Boovy Jukebox" of top tracks, "Oh's Shake Your Boov Thing," a toe-tapping, music video mash-up, hilarious deleted scenes, character-drawing tutorials and more!
Press materials available at www.epk.tv See the film and special features: www.FHEScreeningRoom.com
ABOUT DREAMWORKS ANIMATION
DreamWorks Animation creates high-quality entertainment, including CG animated feature films, television specials and series and live entertainment properties, meant for audiences around the world. The Company has world-class creative talent, a strong and experienced management team and advanced filmmaking technology and techniques. DreamWorks Animation has been named one of the "100 Best Companies to Work For" by FORTUNE® Magazine for five consecutive years. In 2013, DreamWorks Animation ranked #12 on the list. All of DreamWorks Animation's feature films are produced in 3D. The Company has theatrically released a total of 31 animated feature films, including the franchise properties of Shrek, Madagascar, Kung Fu Panda, How to Train Your Dragon, Puss In Boots, and The Croods.
About Twentieth Century Fox Home Entertainment
Twentieth Century Fox Home Entertainment is the industry leading worldwide marketing, sales and distribution company for all Fox produced, acquired and third party partner film and television programing. Each year TCFHE expands its award-winning global product portfolio with the introduction of new entertainment content through established and emerging formats including DVD, Blu-ray™ and Digital HD™. Twentieth Century Fox Home Entertainment is a subsidiary of 21st Century Fox.
VIP'S ATTEND ORIGINAL GOLF TEE CLASSIC
90'S R&B GROUP 'SILK' HEADLINES
ATL LVE IN THE PARK
PHOTO CREDIT: WHYCAUSEICAN.COM
Another successful ATL Live in the park by Shanti Das & Marc Nicols.! Attendees enjoyed performances by Ryan Bolton who performed Sam's Cooke "A change Gone Come," The energetic indei R&B singer Vina Mills and Headliners: R&B 90's group Silk.  DJ Mars was on the 1's & 2's keeping everyone entertained with his great mixture from 90's -present.
When Silk hit the stage, the ladies went crazy of course, and they opened up with "Meeting in my Bedroom," followed by a new song from their new album coming this fall called "Brown eyed girl" & Love 4 you to like me," and the audience wanted more. So Silk performed their hit single "Freak Me" and "Loose Control." Now if you are a 90's head like us you were definitely wowed to see them perform the songs live with the band. It was totally superdope! They even brought some ladies to stage, and everyone had a great time.
Some celeb appearances that were also in attendance were Cyrene Tankard – Star of Bravo TV's Thicker Than Water (she will be at our lunch and learn panel this Saturday), J.Holiday -R&B artist, and Mishon- R&B artist.
Season 6 of ATL Live on the Park returns to Park Tavern next month for their fourth annual *All White Party* on August 11th, 2015 .
//////////
TYRESE "BLACK ROSE" ALBUM
IN STORE AT DBS SOUNDS
PHOTO CREDIT: ROBIN LORI
ATLANTA, GA – Recently, Tyrese hosted his 'Black Rose" album in store signing at DBS Sounds in Riverdale, GA. The signing was produced by DBS Sounds, CCMG, and City of Riverdale. Tyrese's fans came in units to support the R&B sensation, with over 2000 people in attendance for the 2 hour event.
"Tyrese in store was a huge success! Thank you to everyone, such as City of Riverdale, Rent A Center, CCMG, J Mye, and a special thank you to the loyal customers who braved the 95 degree heat and for supporting DSB Sounds all year long," says D. Tobago Benito , Owner of  DSB Sound.
For more information on Tyrese in stores/fan photos: www.tyreseonline.com or DBS Sound please visit: www.DBSSound.com
//////////
4TH ANNUAL PRE-ESPY AWARD KICK OFF
 (L TO R) Norm Nixon, Garcelle Beavais, Elise Neal, Holly Robinson Peete, Shanice Wilson, Kendra Baskett (Back Row) Jalen Rose, Pres. Kevin Chavous, Lisa Leslie, Rodney Peete, Hank Baskett
MOVIE SCREENING FOR: "VACATION"
PHOTO CREDIT: PRINCE WILLIAMS
UFE-TV ACCESS was granted to view Warner Bros. Pictures new movie Vacation! Warner Bros. Picturesn partnered with several media outlets (which was really genus!) to host a series of influencer screenings in New York and Atlanta for the comedy 'VACATION,' starring Ed Helms, Christina Applegate and Chris Hemsworth. Well in ATL, BOSSIP held the Atlanta event at Regal Atlantic Station with V103 radio host Ryan Cameron. Attendees included "Love & Hip Hop: Atlanta" cast members Yung Joc, Khadiyah Lewis and Shay Johnson; Mushiya Tshikuka (WE tv's "Cutting It: In the ATL"), Egypt Sherrod (HGTV's "Property Virgins"), Gocha Hawkins (WE tv's "LA Hair"), Janee Bolden (BOSSIP), Alexis Felder (BOSSIP), Danielle Canada (BOSSIP), Dice Dixon (VH1's "LaLa's Full Court), Melissa Knowles (HLN anchor), rap duo TK & Cash, visual artist Fahamu Pecou, Angel McCoughtry (WNBA Atlanta Dream), Jadarius Jenkins (son of rapper Jeezy) and more.
In New York that night, celebrated podcast personality Combat Jack (aka Reggie Osse) along with radio and tv personality Angela Yee (Power 105's "The Breakfast Club") invited friends and fans to their own 'VACATION' screening at Crosby St. Cinema. Guests included Chef Roble, Jessica Bell ("Wendy Williams Show"), Gabriel Williams (StuffFlyPeopleLike) and Shareef Alibi (StrikklyHipHop.com).
Finally, on Friday, VIBE kicked off the screening series – also at Crosby St. Cinema – with actor/rapper Mack Wilds. Attendees included Rotimi (Starz' POWER), Amina Buddafly (VH1's "Love & Hip Hop: New York), Bruce Fretts (NY Times), Shenequa Golding (VIBE), Karu Daniels (NBC BLK, NY Daily News), Shaheem Reid (Life and Times), Chitra Nawbatt (Thomson Reuters), Wilson Morales (Blackfilm.com),  Delaina Dixon (VH1's "Gossip Table"), Danielle Young (HelloBeautiful.com), Summer Wayans and more!
'VACATION' opened nationwide Wed July 29, 2015.
Photos: Stephen Knight (NYC); Prince Williams (ATL)
PRESS ASSETS (Clips/Images): CLICK HERE
"VACATION"  INFO Official Film Site: http://vacationthemovie.com
Official Facebook: https://www.facebook.com/VacationMovie
Official Twitter: https://twitter.com/vacationmovie
Official Instagram: https://instagram.com/vacationmovie/
/////////
MILLER LITE'S EVENT: TAP THE FUTURE
UFE-TV ACCESS was granted to attend the The Miller Lite Tap the Future® business plan competition! It came back for its third year, returning to cities across the U.S. for its Live Pitch Event tour to find the most original business ideas. Five semifinalists from Georgia and the surrounding states delivered their best pitch in front of a live audience for a chance to win big money for their small businesses. The Atlanta event took place at the Opera Nightclub. Entrepreneurs were evaluated and received feedback from some of the sharpest business minds in the country, including lead judge Daymond John from ABC's "Shark Tank." The semifinalist winner was MOTHER EARTH PRODUCE,  asmall business started by a husband and wife out of North Carolina. They came out on top and received $20,000 and advance to the national finals where they will compete for a grand prize of $200,000.
The other fellow panelist was Sulaiman "Su" Sanni and Ben Lamson, co-owners of WeDidIt, a tech company that helps nonprofits raise money and reach new donors through web, mobile and analytics. Sanni and Lamson are also past recipients of a MillerCoors business grant. Guest judge Marve Frazier, chief creative officer of Moguldom Media Group and CEO of Bossip.com, also participated on the panel. This event was hosted by Kenny Burns, senior vice president of marketing for Revolt TV, author of "The Dream is Real" and founder of the lifestyle, online magazine studio43.com.
ABOUT MILLER LITE
"Miller Lite was built from the entrepreneurial spirit and passion of Frederick Miller, in turn, we look to help today's entrepreneurs stay true to themselves and keep their passions alive," said Steve Canal, MillerCoors manager of community affairs. "Passion is at the root of what makes a business successful and the pitch is where we get to see that come through. We celebrate entrepreneurship and hope to continue serving our communities by being a resource for small business owners on their paths to success."
"Having done my fair share of business pitching and evaluating the pitches of others, I've gathered a lot of expertise in this area that I always like passing along to the emerging entrepreneurs in this competition," said Daymond John, Shark Tank investor, author and business mogul. "The Miller Lite Tap the Future program is a great learning experience for the contestants where they practice the art of pitching to an investor, networking and putting together a solid business plan. It's also a great launching pad for the winning businesses, as the grants are given free and clear. Miller Lite takes no equity from the companies, which is a big deal for entrepreneurs. I look forward to seeing the semifinalists on the tour." For more information visit www.MLTapTheFuture.com.
>>>CLICK HERE To See Full Album<<<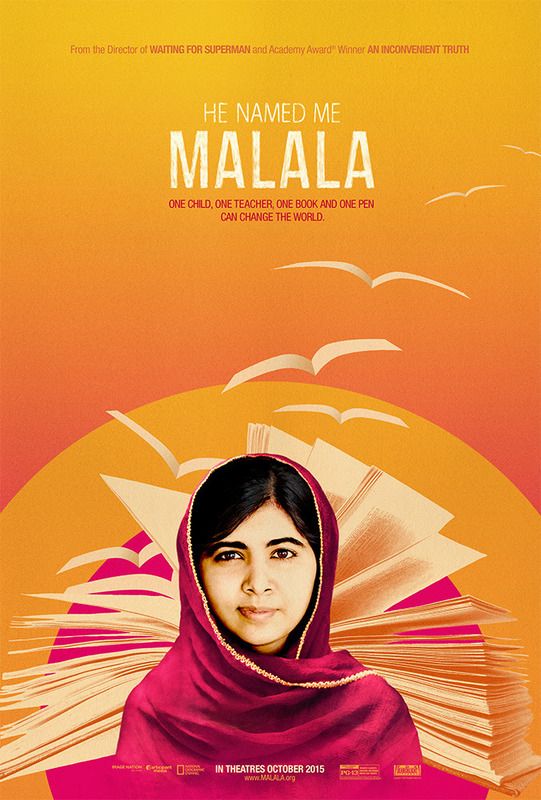 CLICK HERE FOR MORE INFO:
Cast:
Malala Yousafzai, Ziauddin Yousafzai (father), Toorpekai Yousafzai (mother), Khushal and Atal Yousafzai (brothers)
Directed by:
Davis Guggenheim
Screenplay by:
Davis Guggenheim
Produced by:
Walter Parkes and Laurie MacDonald under their long-term production partnership with Image Nation Abu Dhabi and co-financed by Participant Media
HE NAMED ME MALALA is an intimate portrait of Nobel Peace Prize Laureate Malala Yousafzai, who was targeted by the Taliban and severely wounded by a gunshot when returning home on her school bus in Pakistan's Swat Valley.  The then 15-year-old (she turns 18 this July) was singled out, along with her father, for advocating for girls' education, and the attack on her sparked an outcry from supporters around the world. She miraculously survived and is now a leading campaigner for girls' education globally as co-founder of the Malala Fund.
Acclaimed documentary filmmaker Davis Guggenheim (An Inconvenient Truth, Waiting for Superman) shows us how Malala, her father Zia and her family are committed to fighting for education for all girls worldwide. The film gives us an inside glimpse into this extraordinary young girl's life – from her close relationship with her father who inspired her love for education, to her impassioned speeches at the UN, to her everyday life with her parents and brothers.
"One child, one teacher, one book and one pen can change the world." – Malala
Press Site: http://press.foxsearchlight.com/he-named-me-malala/
//////////
W.E.N. POWER BRUNCH IN NEW ORLEANS
UFE-TV ACCESS was granted to attend during the Essence Festival, the Women Empowerment Network Brunch Held at Après Lounge 608 Fulton Street, New Orleans, LA 70130.  Lisa Nicole Cloud, star of Bravo's Married to Medicine will took her popular and highly regarded women's empowerment conference to New Orleans 4th of July weekend. The ladies were deep in the building, and the message along with the networking was superdope! There were many photo ops, familiar faces, and it was awesome to see women in power under the same roof.
About the W.E.N. Experience
The one-day WEN Experience kicked off in New York City and will travel to four additional cities after New Orleans: Miami, Boston, Raleigh and California (city to be announced soon).  The WEN Experience is designed to help women 'Renew their Mind, Redefine their Goals and Re-Imagine their Life' at new levels of success.  In addition, attendees will have an opportunity to connect with some of the nation's most successful and prominent businesswomen as they come together to share strategies for success.  The tour will conclude in Atlanta with the annual three day, Women's Empowerment Leadership Conference (WEN) scheduled to be held at W Atlanta-BuckheadOctober 16-18, 2015.
>>>CLICK HERE To See Full Album<<<
//////////
MEET THE QUEEN OF ABS:
SANTIA MARIE DECK
Santia Marie Deck was born in Greenville, SC and raised in Houston, TX. She ran track for over
13 years, including a successful college track career at Texas A&M in Kingsville. When she was
only 2 years old a doctor told her mother that Santia had the body of a runner, and made her
promise to put Santia in track when she was old enough. At seven, she started running track
over the summer and she has not looked back since. Now, Santia is a certified personal trainer
(AAAI). She also helps to coach the track team of the Atlanta area high school that she once
attended; serving as a volunteer coach. She dreams of adding celebrity clientele to her roster
of clients, and of opening her own gym in the near future. As a fitness model for a handful of
brands, she has built a large & engaged social media following. Santia shares fitness and
nutrition tips, as well as messages of inspiration, with her fans. Her fitness television program
is now in it's second season of production. Paired with growing markets for the first season,
the show now has a total reach over 100 million households. In addition to her fitness
endeavors, Santia is also a published author. Her book titled "The Struggle" sheds hopeful light
on the secret world of child abuse, which she was introduced to when a close friend confided
in her. Whether training clients, speaking to children about fitness or encouraging women to
love their bodies, she inspires while spreading confidence and courage.
Press & Media:
Kionne Johnson: KJThePublicist@gmail.com
Booking:
Jelisa Floyd: jelisa.floyd@gmail.com
Business:
Cynthia Deck: cynthiacdeck@aol.com
//////////
GOLDEN CHILD BRAND
● GOLDEN CHILD™ is a lifestyle brand that fuses Music, Fashion, Art & Technology. Perfect for the on the go type of person; who lives there life Traveling and Exploring different places. It's also Fashionable & Convenient, charging any Phone device (Android, iPhone or other), also great for iPad, Laptop, etc..
● Our iPad Flight/Travel Bag is perfect for those who don't want to carry a Backpack around; it's small, saves space, and it's easy to pack and unpack if you need to. Many artist and public figures have been seen rockin Golden Child such as Tinashe (Recording Artist), Malika & Khadijaah (Actresses), Masika (of VH1's LHHH), Mona Scott-Young (Creater of VH1's #LoveAndHipHop franchises), Lisa Raye (Actress & former 1st lady of Turks And Caicos), and many more..
● Make sure you follow @GoldenChildIsMe via IG & Twitter and you use the hashtag #StayGolden, become a GOLDEN CHILD today!!! For more information log on towww.Golden-Child.com/US/
—
JÇārtër
GOLDEN CHILD Brand Ambassador
www.Golden-Child.com #StayGolden
• Cell: 1.323.350.1115
• Social Media: @JCarterLA via IG & Twitter | @GoldenChildIsMe via IG, Twitter, & Facebook
//////////
MEET TIONA DEE
Singer/Songwriter/Photographer/Philanthropist
Growing up in Buffalo, NY, singer/songwriter/photographer Tiona D. spent a lot of
time perfecting her soulful, melodic sound while singing in her church choir.
A pivotal moment in her early career happened in 2001 when she preformed for the
swearing-in celebration of Senator Hillary Rodham-Clinton, in Madison Square
Garden Theatre.
It was at that moment she realized that the stage was where she wanted to make a
permanent residence.  "I felt such a rush after singing that night, it really solidified
that singing was what I wanted to do for the rest of my life."
Since moving to Atlanta, Ms. D. has featured in numerous duets and has also
preformed in various R&B showcases around the Atlanta Area.
Over the past year Tiona  has traveled to Los Angeles to work on writing projects for
artists like Jennifer Hudson and Amber Riley, and is working with known producer
Remo the Hitmaker (Dancin' on me with DJ Webstar) more recently she has been
working on her own material.
By working with producers like Brian Kennedy, ("If This isn't Love"-Jennifer
Hudson) and writing camp, Rock City ("If This isn't Love"-Jennifer Hudson and
"When I grow Up"- Pussycat Dolls), Tiona's project is sure to deliver strong vocals
and a heavy hitting production /songwriting marriage.
She describes her sound as classic and sexy with a nostalgic R&B flow.  "R&B music
is all about feeling, and I want my fans to feel the connection from my life
experiences and their own personal lives.  Most of all I want my sound to be a
timeless creation."
Most recently, Tiona decided to connect her love for photography and passion for
community development with her creation of Tuff Diamonds
(www.tuffdiamonds.com).  Tuff Diamonds is an organization fashioned to build self-
esteem in young women.  "Tuff Diamonds was created to celebrate the uniqueness
in every woman.  The goal of my organization is to compliment one another instead
of bringing each other down.   By focusing on the positive aspects in ourselves I
believe we can uplift our community one Diamond at a time."
Press & Media:
Kionne Johnson: KJThePublicist@gmail.com
//////////
THE 2015 NBA DRAFT IS HERE… MEET THE 
#1 DRAFT PICK IN THE LANE OF FASHION
(LOS ANGELES, CA) Draft day has finally arrived and it's one of the biggest days in the lives of many NBA hopefuls, but in the lane of fashion the guy you want on your team is designer Waraire Boswell. There is a reason that he consistently receives the phone call to dress the #1 top Draft Picks in the NBA, it's because he is known as the dream weaver of masterful, quality custom and ready to wear garments for a select spectrum of professionals and barons of the industry, Boswell has outfitted some of the most influential players in business and sports, including LeBron James, Kobe Bryant, Blake Griffin, Nick Jonas, Ryan Gosling, NAS, and Dwyane Wade.
"Being drafted to the NBA is a day these guys will never forget.  Being a part of such a pivotal and important time in their lives leaves a long lasting mental and visual fashion footprint, which is extremely special… I encapsulate that day creatively for the draftee with my design," says Boswell.
No matter the height, the key to a great suit is attention detail, in addition to over-standing the clients sensibilities and natural attributes. Honing in on the said allows Waraire Boswell and staff to deliver equitable pieces/wardrobes that embody the ethos of WARAIRE BOSWELL: a Master Chameleon, one able to adapt in any environment and these are Sensibilities that every person can appreciate regardless of height.
Creative Director/CEO Waraire Boswell styles on his clients are regularly profiled in GQ, Vogue, Vanity Fair, Hypebeast, Esquire, WWD and many others.
WARAIRE BOSWELL is available for interview opportunities to discuss/provide expert perspective on all topics related to fashion/design in sports or NBA, as well as fashion at the 2015 BET Awards and post awards wrap up.
media inquiries: vaughn@go-vaughn.com  
//////////
MEET WARNER BROTHER'S ARTIST: HOP SIN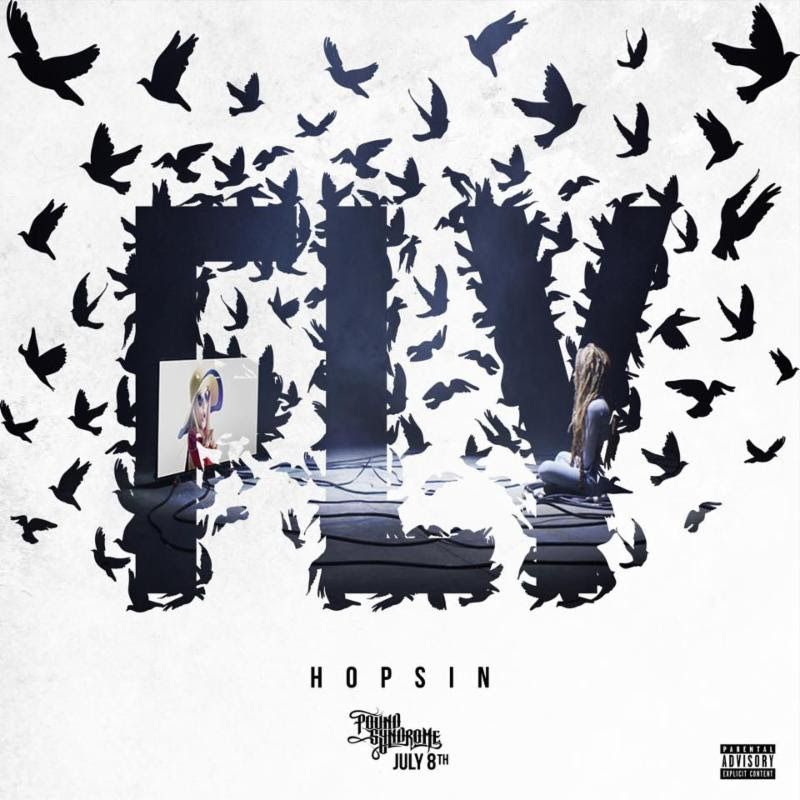 [BURBANK, CA.] After dropping of his scathing first single "Crown Me" last month, Hopsin returns today with the second look from his upcoming album, "Fly." The Funk Volume co-founder analyzes the structured nature of society and how we as individuals are pressured to fit within those confines in the clip directed by George Orozco and Hopsin.
WATCH: https://youtu.be/5MitZ-C0tgQ
ITUNES: http://flyt.it/hopsinfly
On July 24th, Hopsin will return with the follow-up to 2013's Knock Madness, Pound Syndrome. Produced, written and engineered by himself, the 14-track, self-contained album features appearances solely from Funk Volume family Dizzy Wright, Jarren Benton and SwizZz. Tracklisting is as follows:
The Pound (Intro)
Forever III
No Hope
Ramona feat. Jarren Benton
Mr. Jones
Fort Collins feat. Dizzy Wright
No Words (skit)
Crown Me
Ill Mind of Hopsin 7
FV Til I Die feat. SwizZz
My Love
No Fucks Given
Fly
I Just Can't
Along with Pound Sydrome's pending release, catch Hopsin each Monday on TNT's crime drama Murder in the First starring Taye Diggs proving even a "special-ed kid rapping in his momma's basement" can make it.
For more information on Hopsin, please visit http://press.wbr.com/hopsin.
LINKS
Official: http://www.myfunkvolume.com
Facebook: http://facebook.com/hellohopsin
Twitter: http://twitter.com/hopsin
Instagram: https://instagram.com/hopsinson

///////////
THE VISION COMMUNITY FOUNDATION HOLDS 4TH ANNUAL
BLACK TIE GALA AT HYATT REGENCY IN ATLANTA
Sheryl Lee Ralph, Andrea Kelly, Marlo Hampton, Princess Baton Lofters, Mushiya, Bennie Mosley and Gwen Clemons amongst those honored and in attendance at the annual celebration
Rashad Burgess, Sheryl Lee Ralph, Bishop Oliver Clyde Allen, III
PHOTO CRED: JUST FOR LOVE PHOTOS
(ATLANTA GA) Bishop Oliver Clyde Allen III,First Gentleman Rashad Burgess and The Vision Community Foundation held the 4TH Annual Black Tie Gala at the Hyatt Regency Hotel. The exclusive gala recognizes the achievements of those in the arts who support the LGBTQ community.
The honorees recognized were: Sheryl Lee Ralph for her many contributions in film, television, Broadway and her love and humbling heart for the LGBT community and bringing awareness to HIV/AIDS through her DIVA Foundation. Andrea Kelly, was honored for being an amazing choreographer, actress and for her love for equality and support for her transgender son Jay. Marlo Hampton was admired and acknowledged for her impressive fashions and endearing heart for the LGBT community. Princess Baton Lofters was honored for creating one of the best reality television shows in history, Real Housewives of Atlanta. Bennie Mosley was recognized for building awareness and pride in the diversity of the LGBTQ community by creating a Black American Pageantry organization to offer Black Gay Entertainers an avenue to compete and service the community on a national platform. Also honored was Mushiya Tshikuka, star of WE tv's new show Cutting It: in the Atl, for being an inspiration to women through her new national platform. Memphis native, Minister Gwen Clemons was honored for her humanitarian efforts and exceptional support for equality and the LGBT community and development of radio talk show that deeply explores the issues of the LGBT Community in the south.
The Vision Community Foundation is founded by Bishop Oliver Clyde Allen, III with Avian Watson serving as deputy director.
>>>CLICK HERE To See Full Album<<<
///////////
GIRLFRIENDS & CHAMPAGNE PAMPER PARTY
BET WEEKEND IN LA
UFE-TV ACCESS was granted to attend GIRLFRIENDS AND CHAMPAGNE (Pamper Party and Gifting Suite)
Presented by @hustlegurlent @devineevans @themaddiva @1stclassconsultant
LOCATION: THE ORLANDO Hotel
DOWNTOWN LOS ANGELOS
CONCIERGE SERVICES PROVIDED BY: @MADDIVACONCIERGE
INCLUDED:
massages | facials | mani – pedi | shopping | girl talk | food | drinks | gifts | raffles | celebrity gifting
CELEBRITY HOSTS:
Torrei Hart
Sundy Carter
Jazmone "Jazz" Admas
Brave Williams
Helecia Choyce
Mae West
>>>CLICK HERE To View Full Album<<<
//////////
PLATINUM STAR PR'S: TEEN AWARDS
BET WEEKEND IN LA
UFE-TV ACCESS was granted to attend Platinum Star PR's Teen Awards.
>>>CLICK HERE To View Full Album<<<
//////////
2ND ANNUAL CITY OF ANGELS EVENT
BET WEEKEND IN LA
UFE-TV ACCEESS MOS WAS DEF GRANTED IN LA!!!
Darryl Pitts, DP Productions
Kevin & Schvone Rouse House Entertainment
Cynthia Busby| Busby Promotions
KimiRhochelle PR & Entertainment Firm
Donquellatish D-Spot
Keisha Bonner, Z'da Productions
Nikida, Distinct Diamond
Diann Williams, Rouse House Entertainment
Ref & Gator Entertainment
Lulu Suga, DP Production
Sonya Black, DP Productions
presents
The Legendary YoYo
Celebrating 25 years in Hip Hop
Yo-Yo first appeared as a guest on Ice Cube's AmeriKKKa's
Most Wanted album in 1990, on the track "It's a Man's World."
Yo-Yo, is a Grammy-nominated rapper and actress from
Compton. She is best known for her 1991 hit "You Can't Play With My Yo-Yo," from her debut album Make Way for the
Motherlode. An Ice Cube protégé, Yo-Yo brought feminine
fever to the hip hop scene in a way that balanced the strength
of a woman with the hard edge of a gangsta rapper. She
has also had a successful acting career in film and TV,
as she has appeared in Boyz n tha Hood, Menace II Society
and Martin. In 2008, Yo-Yo gave a highly-anticipated performance of "You Can't Play With My Yo-Yo" at the
BET Hip Hop Awards. She also shared the stage with fellow
legendary rappers MC Lyte, The Lady of Rage and Salt-N-Pepa.
>>>CLICK HERE To View Full Album<<<
//////////
2ND ANNUAL POWER BEHIND THE MACHINE
BET WEEKEND IN LA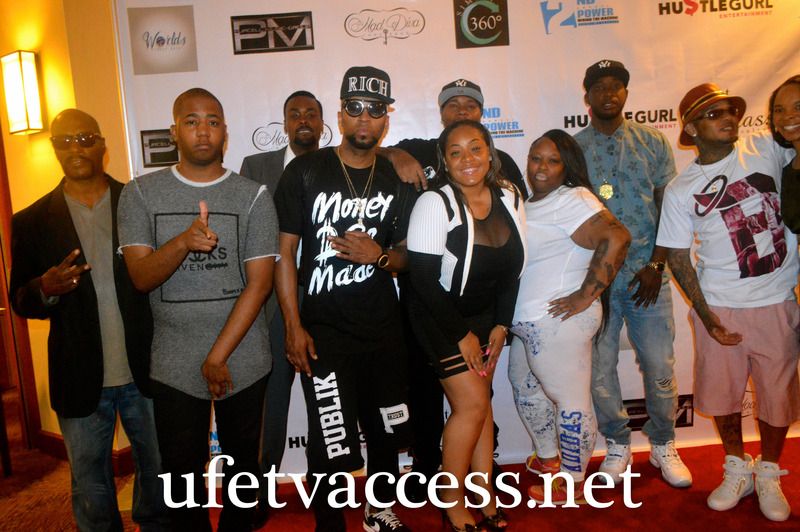 UFE-TV ACCESS WAS GRANTED to attend the THE 2nd ANNUAL POWER BEHIND THE MACHINE
(ENTERTAINMENT PANEL)
Presented by @hustlegurlent and Helecia Choyce & Associates
LOCATION: Westin Bonaventure Hotel
404 S Figueroa St, Los Angeles, CA 90071
CONCIERGE SERVICES PROVIDED BY: @MADDIVACONCIERGE
2015 PANELISTS:
Omar Gooding
DJ Cash
Cherie Johnson
William L Johnson
Mae West
Cherie Chiles- Buchaman
Lil Will
Mechelle Tucker
Kel Mitchell
Drumma Boy
Jonathan Clardy
Mark Da Spot
DJ Drama
Hazel – E
Helecia Choyce
AvImkr
>>>CLICK HERE To View Full Album<<<
//////////
TINY'S TEQUILA LAUNCHES IN LA
DURING BET WEEKEND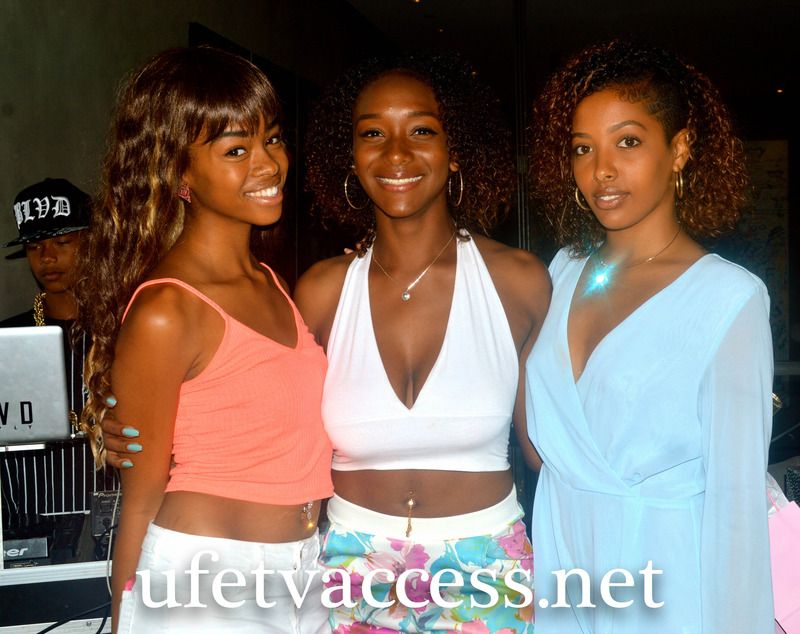 UFE-TV ACCESS was granted to 3rd Annual "Eye on Glam" Beauty Brunch, presented by Tiny's Tequila was held at West Hollywood's Andaz Hotel.  The annual event, which included a sit-down brunch, beauty treatments and vendors, was hosted by Real Housewives of Atlanta'sDemetria McKinney and LA promoter Miss Diddy.
The lavish affair that was powered by Pynk Magazine and Everything Girls Love included celebrity guests such as Demetria McKinney (Real Housewives of Atlanta), Mona Scott Young (Creator of Love & Hip Hop), Marlo Hampton (Fashionista, Real Housewives of Atlanta), Ms. Diddy LA (Celebrity Promoter), Bambi Johnson (Love & Hip Hop), China Upshaw (LA Hair), Angela Stylez (LA Hair), DJ Mustard (Celebrity DJ), Malaysia Pargo (Basketball Wives LA), Brandi Maxwell (Basketball Wives LA), Tiffeny Cambridge (Married To The Game), April Daniels (Tamar & Vince Show), Michel'e (R&B Divas), Antonique Smith (Actress/Singer), Lee Mazin (Tyler Perry For Better Or Worse), Finngaz (Oxygen Hair Battel Winner), Dana Dane (Old School Hip Hop), Melvin Jackson Jr. (Actor/The Wire, Everybody Hates Chris), Carl Anthony Payne (Martin), Lisa Buford (Celebrity Barber, LA Hair), Diamond Strawberry (Love & Hip Hop New York), Megan James (Basketball Wives LA), Cocoa Brown (Actress/Comedian Tyler Perry The Single Moms Club), Brandon Larkins (Actor/The Wire), Suga T (Rapper), Alia Kruz (Actress/Comedian) The Jasmine Brand (Celebrity Blogger) JaMaal Buster (Eye Lash Guru) and more.
The festivities produced by STI Signature Spirits Group (a division of Accel Brands, Inc), The Luxe Style Lab, The DNetwork and Monique Greene & Associate, included an open Tiny's Tequila bar, Brunch, Massages, Makeup Bar, Hair Styling Bar, Eyelash Extensions and more. Cake designer Cakes By Ty out of Dallas, Texas created a special cake for the event and decor was provided Premiere Events.  Sounds spun by DJ Kiss.
About Tiny's Tequila
When the inspiration behind Tiny's Tequila, Grammy award winning singer/songwriter and reality TV star, Tameka (Tiny) Harris partnered with STI Signature Spirits Group, LLC and Local Choice, Inc. to develop a line of premium infused sipping tequila's, she wanted to make sure of two things; it had to taste GREAT and it had to have minimal burn! With the introduction of Tiny's first two infusions Orange Blossom (Honey-Orange) and Lime Light (Lime) they have achieved both goals.  When it comes to great tasting tequila with a subtle finish, Tiny's Tequila definitely hits the right note for people looking for the perfect blend of strong but sweet.  It proves that synergy can be found between traditional, all natural ingredients and modern, new-age refinement  The result is a line of award winning premium artisanal infusions at an unbeatable value.www.tinystequila.com.
>>>CLICK HERE: To View Full Album<<<
//////////
OWN: OPRAH WINFREY NETWORK
ATL LUNCH & LEARN
ATL LUNCH & LEARN was another successful event! Urban Female Entertainment, Quente'Sential Branding, & Be Magazine put together another awesome event for the community. This monthly event gets bigger and better each event!! Our guests enjoyed the networking scene in conjunction with our sponsored lunch by the staff Anaginks Cusines, Chef Tee . It was a real cool vibe and everyone was chill. This monthly event ATL Lunch & Learn was also sponsored by Tee's & Quote at 244 Peter Street Atlanta GA. Big S/O to our sponsors!!!
Our panlist were hand picked from our network, and there were several topics such as the entertainment business, media, entrepreneur concepts, & how everyone on the panel got started and grew into their current status & more.  The audience was really engaged into the paneled discussions and when it came to asking questions, no one in the crowd was shy. It was an intimate setting that included alot of knowledge, wisdom, networkers, grinders, media, and supporters. Our monthly panelist  were:
BEAUTII J- WE TV'S CUTTING IT IN THE ATL
YVETTE RAMERIZ- CEO OF OPERATIONS AT SUITE LOUNGE
BAMBI- BASKETBALL WIVES/ LOVE & HIPHOP ATL
JAZZY MCBEE- RADIO PERSONALITY AT STREETZ 94.5FM
AMBER BRYANT- BRAVO'S MOTHER FUNDERS
>>>CLICK HERE To See Full Album<<<
//////////
Deniro Farrar's 'Cliff of Death 2 (COD2)': Exclusive Mixtape Premiere
GA PEACH FASHION WEEK
ABOUT THE FOUNDERS & THE EVENT
UFE-TV ACCESS was granted to attend the GPFW! Have you all heard of TWIN OF A KIND? They are totally awesome dot com and there are Desiree and Erin from LA.  Desiree recounted on how their experience in Atlanta's fashion world was limited in regards to the fashion shows they witnessed. The location of the fashion shows were not what they were used too. They also noticed that for some of these shows, the models were not getting paid for participation.

The caliber and the market is different here. That's why we want to change the game in regards to fashion and entertainment. We want models to get paid their work for walking at the shows. We want great presentation, but not just great presentation. The caliber of the show that is produced. We want people to say 'wow Georgia has something' that we're offering to the plate, said Desiree,

Nobody wants too or nobody has taken fashion seriously in Atlanta, said Kenyon. When you go to L.A and New York and you mention Atlanta… Atlanta is not known for fashion. They are known for film and television now. We want to change the game and create a platform where fashion is taken seriously in Atlanta.
Desiree and Kenyon consider themselves Atlantians and are holding tight to the fashion baton and leading Atlanta's fashion  to success. From there, GPFW was birthed. TWIN OF A KIND was birthed by Desiree and her twin sister Erin.
"Twin of a Kind is my passion. We started it back in 2008. It's a youth empowerment organization and it's non-profit. It's all about encouraging and building self esteem as individuals in youth ages. Of course self esteem can be built in all types of forms for all different types of ages. The ages can range from twelve and go all the way to adult years. It's all about unlocking and unleashing your star potential."
Twin of a Kind works with a lot of youth that have been traumatized in various ways. The foundation is designed to help booth the self-esteem of those who have or are in traumatic situations. Twin of a Kind conducts workshops on anti-bullying, sex trafficking, knowing yourself, and other things of that nature. They are hands on with their youth so they can feel comfortable to engage. The charity is currently California-based however, there are plans for the foundation to be a expand globally.
 The featured designers were Drip Swimwear, Kimmani Kouture, and The Cotrice Collection.
>>>CLICK HERE To View Full Album<<<
///////////
ONE MUSIC FEST LINE UP!
ATLANTA, GA! [NEWS FLASH] ONE Musicfest, in partnership with Live Nation, announce the 2015 music lineup for one of the most anticipated festivals to take place in the Southeast. Reaching its sixth year of bringing together the best of urban alternative legends and contemporaries for a unique experience through music and visual, One Musicfest is pulling out all the stops with this year's roster of performances.  Organizers have meticulously curated talent to include: Ms.Lauryn Hill, The Roots, A$AP Rocky (currently having the number one hip hop album in the country), Wale, Janelle Monae & Wondaland, Raekwon, Ghostface, The Internet, Raury, SZA, Scarface, 8Ball & MJG, Big KRIT and many more to be announced. The festival will take place at Aaron's Amphitheater at Lakewood on Saturday, September 12, 2015.
One Musicfest will take place on multiple stages and will serve as the ultimate mashup of innovative urban alternative acts with over eleven hours of non-stop music. The festival will feature over 25 of the hottest global DJs whose music crosses over to all spectrums, local vendors, games, and interactive activities. One Musicfest is the only place to see this roster of incredible acts join together for One purpose  – which is to witness a wide variety of sounds, from rock to hip-hop, electro, reggae, funk, disco, house, alternative and soul while having your musical senses stimulated.
Founded by Jason Carter, ONE Musicfest has been one of Southeast's largest home-grown, musical arts festival to date including over 10,000 plus attendees. Carter has brought Atlanta music lovers the best and the brightest urban alternative acts performing in a welcoming, hospitable setting, creating an atmosphere where everyone can enjoy and discover music.
For more information and to purchase tickets please visit www.OneMusicFest.com or get social by following ONE Musicfest on Twitter/Instagram @ONEMusicfest with the hashtag of #OMF2015.
 About One Musicfest
ONE Musicfest is what you've been waiting on. Witness one of the most amazing music festival to hit Atlanta and the Southeast. If you're looking for a perfect blend of music, people, food and culture, welcome home. From upcoming hip hop acts to timeless R&B legends to Rap Icons to Alternative Greats, ONE Musicfest has it all. ONE Musicfest is a massive block party all under one roof, ONE Musicfest has some of the best music talent of the nation performing for an epic 11 hour stretch, with food trucks, art expo and a variety of shops for all those who attend. No other upcoming shows or music festivals in Atlanta compares to the experience you will have at ONE Musicfest. It is certainly an event that will have music lovers worldwide on their feet and partying. Get your tickets now, because these music festival tickets won't last long. www.OneMusicFest.com
MEDIA CONTACTS
The Garner Circle PR
P: 888.560.6660
Kiara Jones
AccountManager@TheGarnerCircle.com
Nicole Garner Scott
///////////
FASHIONABLY NOTED BRUNCH
UFE-TV ACCESS was granted to attend the Variety 6 and Sapphire Ink Public Relations event. They presented the first segment of their "Fashionably Noted" Summer brunch series. The first brunch was titled "Beyond the Music," and it was a superdope experience and event. It was in the heart of Buckhead- Atlanta and at Goldne Biersch, and the focused disccussion was on women in entertainment.
On the The panel was Joncier Riencer Rienecker- Associate director, Creativ Services, Rhythm & Soul (urban) ASCAP, Lori Hall- marketing director at HOT 107.9, Praise 102.5, Majic 107.5 RADIO ONE, and last but not least Check Cee Radio Personality, host, STAR 94 Atlanta, YO! Cheeka. They were totally awesome dot com, and they shared their stories and their expertise on fashion and the entertainment industry. Great knowledge and mos def great netowking!
This brunch series will not only highlight female professionals, but it will allow them to share their experience and knowledge with other professionals and individuals aspiring to become a part of their world…whether it be entertainment, fashion, or technology," exclaims Tiffany Cadogan, founder of Sapphire Ink Public Relations.
Sponsored by GRUNGECAKE, Tea Chick, Toni Washington Hair Salon, and Vanity Culture, this event will provide the perfect combination of delectable eats, networking, and knowledge. Hosted by Pop artist Zoey Clarke, the panelist include:
>>>CLICK HERE To View Full Album<<<
ATL LIVE ON THE PARK
UFE-TV ACCESS was granted to attend the  June installment of Atl Live On The Park created by Shanti Das & Marlon Nicols. This event is sponsored by Gentleman Jack and MAJIC 107.5-97.5. There was a private media invite to interview one of the features of the night-Lyfe Jennings before the show started, followed by photo ops of the performers and selected attending guest.  Other performing artist of the night included Demetria McKinney (RHOA & Tyler Perry), Tyra B, and J. Rain. Kandi Burruss, Claudia Jordan, and friends came out to support the event as well.
Everyone did an oustanding job on their performances, with the live bands, back up dancers, and background singers. This is an A-List event that happens every 2nd Tuesday of the month at the Park Tavern. There were lots of familiar faces in the building, and the food and drinks are inviting as well. It's always a great time, and mos definitely great networking and photo ops. Please visit www.atlliveonthepark.com for tickets and future shows.
>>>CLICK HERE To See Full Album<<<
//////////
VERIZON WIRELESS "POTENTIAL OF US" TOUR IN ATLANTA GA
FEATURING MELANIE FIONA
UFE-TV ACCESS was mos def granted to be apart of and attend the Verizon Wireless "Potential Of Us" event, highlighting the accomplishments of diverse influencers and trailblazers from around the country. Verizon has been on a 4 city tour featuring Melanie Fiona and bot it was such an honor to be apart of such an awesome brand and event.
Verizon Wireless also been recognizing the crowning achievements of various individuals on their "Potential of Us" events. They encourage and inspire adults and kids to not just celebrate history, but also to create it. Verizon has expressed that it's so important to follow your dreams and passions and reach your full potential.
 The event began with a panel of key trailblaers that lives in the Atlanta area, and went on to feature live performances from local talent and celebrity headliner/partnerMelanie Fiona. Her story is amazing! Sh'e coming out with a new album after taking a 3 year break called "awake." She performed some of classic songs, and some new songs with her amazing live band!  It was also nice to see a female keyboard player- that's rare, but superdope! There were plenty of fans and supporters that were in the building!
>>>CLICK HERE To See Full Album<<<
ABOUT THE VERIZON PANEL
The live performances was from Atlanta's own Sammie, Trey Daniels followed by the headliner: Melanie Fiona.Dj Koby Roc got the crowd hype on the 1s and 2s in between the sets.
>>>CLICK HERE To See Full Album of the "Potential of Us" Atlanta Panel
///////////
"MASTER P'S FAMILY EMPIRE" OPENS THE DOORS TO THE MUSIC MOGUL'S FAMILY LIFE 
Master P Juggles His Roles as Businessman and Father to Five Talented Children as He Guides Them Through Life in the Spotlight
Series Premieres Saturday, November 28, 2015 on REELZ
photo cred: ace show biz
(Albuquerque, NM)— REELZ today announced that, for the first time, music mogul Master P is opening the doors to his family home on the network's original series, Master P's Family Empire. Master P, whose real name is Percy Miller, is a single father who made it his mission to forge the Miller family empire—but with five kids ranging in age from 9 to 25 it's not always easy keeping his business interests in order, let alone keeping his kids on track. How will he manage his own projects along with the singing, modeling, acting and sports careers of his children without losing his mind? Master P's Family Empire will give an inside look at how this single father skillfully juggles his roles as entrepreneur, philanthropist and hip-hop artist with his most important role: being a dad. Master P's Family Empire is produced by Asylum Ent and premieresSaturday, November 28.
"Master P is a true American success story, rising from the most humble of beginnings to the top of the entertainment world completely on his own," said Stan E. Hubbard, CEO of REELZ. "The Miller family's infectious chemistry, genuine love for each other and commitment to working hard and following their father's rules makes them as relatable as they are entertaining."
A self-made music mogul who grew up in the Calliope projects of New Orleans—once labeled one of the most dangerous neighborhoods in the nation—Master P sold more than 75 million records on his way to creating a business empire. After earning his keep through years of hard work he doesn't intend to simply hand over the keys to the family castle. Master P is a dad on a mission to create generational wealth guided by the personal mantra "I'm your father, not your friend."  His tough love teachings are always rooted in support and instilling success in his children whether he's producing a new mix tape, giving his daughter dating advice or attending an important parent teacher conference all while producing new recordings and mentoring a new generation of recording artists including his son Romeo.
About REELZCHANNEL—Hollywood Happens Here™
REELZ is a leading independent cable and satellite general entertainment network, connecting its viewers across America with the magic, wonder and excitement of Hollywood wherever it happens. The network is home to cutting-edge factual entertainment and reality programs, compelling television events, miniseries, movies and series featuring big stories and big stars. Programming ranges from the critically acclaimed and award-winning The Kennedys to Hollywood Hillbillies, The Kennedys-After Camelot, Beverly Hills Pawn, Branson Taxi, Autopsy: The Last Hours Of…, Celebrity Legacies, OK! TV, Hollywood Scandals and much more that connects directly to the world of entertainment. REELZ also showcases top movie and entertainment expert Leonard Maltin who provides specific on-air recommendations for movies viewers can watch at home.
REELZ reaches 70 million homes on DIRECTV channel 238, DISH Network channel 299, Verizon FiOS TV channel 233, AT&T U-verse channels 799/1799HD and cable systems nationwide. Find REELZ in your area by visiting www.reelz.com. REELZ is a High-Definition network and if a cable or satellite provider doesn't carry it that way, we encourage viewers to call and ask for REELZ in HD. Owned by Hubbard Media Group, REELZ is headquartered in Albuquerque, NM with national ad sales based in New York City with offices in Boston and Chicago. As one of the last truly independent television networks remaining in today's media landscape REELZ has created the Independence Happens Here™ website to help keep free thought and innovation alive by highlighting the importance of independent businesses. The website can be found at http://IndependenceHappensHere.com.
For more information, please contact the REELZ Media Line
877- REELZTV (733-5988) / pr@reelz.com
FILM SCREENING OF THE MOVIE "DOPE"
ATL LUNCH & LEARN: A MONTHLY EVENT
ATL LUNCH & LEARN was another successful event! Urban Female Entertainment, Quente'Sential Branding, & Be Magazine put together another awesome event for the community. This monthly event gets bigger and better each event!! Our guests enjoyed the networking scene in conjunction with our sponsored lunch by the staff Elite Cusines, Chef A. Blackman . It was a real cool vibe and everyone was chill. This monthly event ATL Lunch & Learn was also sponsored by Tee's & Quote at 244 Peter Street Atlanta GA. Big S/O to our sponsors!!!
Our panlist were hand picked from our network, and there were several topics such as the entertainment business, media, entrepreneur concepts, & how everyone on the panel got started and grew into their current status & more.  The audience was really engaged into the paneled discussions and when it came to asking questions, no one in the crowd was shy. It was an intimate setting that included alot of knowledge, wisdom, networkers, grinders, media, and supporters. Our monthly panelist  were:
GREG SMITH- DIRECTOR AT SESAC
STORMY ATL- PERFORMING ARTIST/ENTREPRENUER
KORE STACKS- RECORDING ARTIST
CORTEZ FARRIS- GRAMMY WINNING PRODUCER & ENGINEER
MR. FORMULA- A&R CONSULTANT
>>>CLICK HERE To See Full Album<<<
///////////
REGINALD HUDLIN AND PHIL GURIN
SIGN THREE-YEAR DEAL
TO CONTINUE AS EXECUTIVE PRODUCERS FOR
THE NAACP IMAGE AWARDS
47th NAACP Image Awards to Air LIVE on Friday, February 5, 2016 on TV One
LOS ANGELES, CA  – The NAACP and TV One jointly announced today that industry veterans Reginald Hudlin and Phil Gurin have signed a three-year deal to continue as executive producers for the NAACP Image Awards.  The 47th NAACP Image Awards will be nationally telecast live on TV One on Friday, February 5, 2016 as a two-hour special from the Pasadena Civic Auditorium.  The live telecast will also include a one-hour live pre-show from the star-studded red carpet.
"We are elated to have the opportunity to continue to produce the NAACP Image Awards for TV One and have great plans and ideas to raise the bar even higher," stated Reginald Hudlin and Phil Gurin, Executive Producers.  "Our ultimate goal is to deliver an entertaining show that honors the best in our community – we are already working on securing today's leading talent to be part of the next broadcast."
 The NAACP Image Awards celebrates the accomplishment of people of color in the fields of television, music, literature and film and also honors individuals or groups who promote social justice through creative endeavors.  The multi-cultural show is one of the most respected events of its kind and is well attended by many of the top names in the entertainment industry.  This year's telecast included host Anthony Anderson and stellar talent including Oprah Winfrey, Will Smith, Taraji P. Henson, Gabrielle Union, Kerry Washington, Tracee Ellis Ross, David Oyelowo, Spike Lee (President's Award recipient), Laverne Cox, Octavia Spencer, and more.  The Chairman's Award was bestowed on former U.S. Attorney General Eric Holder.
Hudlin, former president of B.E.T. Networks, received an Academy Award® and NAACP Image Award nomination as producer on Quentin Tarantino's Django Unchained.  He also produced the Governor's Awards and the Black Movie Soundtrack tribute on behalf the Academy of Motion Pictures Arts & Sciences.  Emmy Award winning executive producer and NAACP Image Awards nominee Gurin has created an unprecedented number of variety specials, including major live events, concert performances, reality programs, clip shows, and comedy series.  Gurin's shows have aired on every major U.S. broadcast network, many cable networks, and in over 100 countries around the world.
For all information and latest news, please visit the official NAACP Image Awards website at http://www.naacpimageawards.net.
FB: /naacpimageaward  ·   Twitter:@naacpimageaward
//////////
2ND ANNUAL BALLING 4 LUPUS EVENT
photo cred: Chuck Brown Photography
UFE-TV ACCESS was granted to attend the 2nd annual Balling 4 Lupus event presented by Black Pearl Entertainment. This event was soooo EPIC! Lots of media, celebrities, socialites, supporters, fans, and attendees were in the building! The event started off with the purple carpet, announcing everyone that came into building. This was an all female basketball game, and there was nothing but love in the room. The players were all excited to be apart of history and if you were not there, clearly you missed out!
Lupus is near and dear to Mrs. Bo Talley-Williams heart because she lost her aunt due to complications of Lupus; she also has a cousin who is currently living with this mysteriously unpredictable illness. These loved ones and her knowledge of the illness is the driving force behind Mrs. Bo Talley-Williams determination to bring aid and awareness to Lupus and continue to be a big advocate for Lupus.
What is Lupus?
Lupus is a chronic, autoimmune disease that could change any part of the body (skin, joints, and/or organs inside the body). Chronic means that the signs and symptoms tend to last longer than six weeks often for many years.
In lupus, something goes wrong with your immune system, which is the part of the body that fight off viruses, bacteria, and germs ("foreign invaders," like the flu). Normally our immune system produces proteins called antibodies that project the body from these invaders. Autoimmune means your immune system cannot tell the difference between these foreign invaders and your bodies healthy tissues ("auto" means "self") and creates autoantibodies that attack and destroy healthy tissue. These autoantibodies cause inflammation, pain, and damage in various parts of the body.
Lupus is also a disease of flares (the symptoms worsen and you feel ill) and in remissions (The symptoms improve and you feel better).
For more info & photos please visit: www.blaqpearlent.com
//////////
NEW MUSIC FROM TIARA NICOLE

CHECK OUT NEW MUSIC FROM TIARA NICOLE
Soundcloud: CLICK HERE

 Tiara Nicole is available for interviews upon request.
Hashtag: #LETYOUGO
/////////
CUTTING IT IN THE ATL: BEAUTII J'S ALL WHITE VIEWING PARTY
UFE-TV ACCESS was granted to attend Beauti J's private all white party for the viewing of the new hit show: CUTTING IT IN THE ATL. The Sexy Beautii J. Star of WEtv's biggest new hit reality show was very down to earth and took photos and selfies with everyone!  Beautii J is the owner of Spoiled Opulence Salon along with the Spoiled Staff . Everyone had the opportunity to watch Episode on HD Screens with Beautii J her celebrity friends.
The first 200 attendees will received a raffle ticket and won goodies from  SPOILED OPULENCE SALON and Beautii's Hair care line "Sweet" and more.  There was a Q&A session with Beautii J moderated by Farah Baron immediately following the viewing of the show.
About Cutting it in the ATL: Atlanta is home to America's most talented, daring and in-demand hair stylists, and at the top, competition is the most cutthroat. Cutting It: In the ATL follows four glamorous and headstrong salon owners as they compete to bring in the most business and dominate the Atlanta hair game. This is something you want to watch with the star Beautii J. visit www.wetv.com and www.Beautiijoseph.com
//////////
ATLANTA GA- Visual artist and scholar Fahamu Pecou is having a banner year so far. This past weekend, he wrapped his first major museum exhibit, "Imagining New Worlds," at the High Museum of Art in Atlanta. He's traveling to Florence, Italy this weekend to speak at New York University's "Black Portraitures" Conference. Two weeks later, he'll be exhibiting "I Know Why the Caged Bird Blings" at the Backslash Gallery in Paris, France beginning June 11. It's his third solo exhibition in Paris.
In April, it was announced that the Smithsonian's National Museum of African-American History and Culture acquired Fahamu's "But I'm Still Fly," a painting from his recent "GRAV*I*TY" exhibit, which premiered at the Museum of Contemporary Art of Georgia last November. Additionally, in January, millions of TV viewers caught a glimpse of Fahamu's work on the mega-hit show "EMPIRE," which featured "All Dat Glitters Ain't Goals" in one of the fictional homes.
This momentum of success can be attributed to years of diligent work and examination of black masculinity, hip-hop and pop culture. A Ph.D. candidate in Emory University's Institute of Liberal Arts doctoral program, Fahamu is committed to bringing art to broader audiences and communities of color. He hosts the talk series "InterSessions," a live Q&A with hip-hop artists and art industry influencers. The series – which The Economist referenced as a successful effort to reach new audiences with art – has featured rapper T.I., film director Nzingha Stewart, music producer Bryan Michael Cox and the High Museum curator Michael Rooks.
Up next for Fahamu? Curating "Elevate 2015," a week-long art festival in October sponsored by the City of Atlanta Mayor's Office of Cultural Affairs.
For more information on Fahamu and his work, visit www.fahamupecouart.com.
For press inquiries, email saptosa@gmail.com.
//////////
Los Angeles – OWN: Oprah Winfrey Network's hit drama "The Haves and the Have Nots," starring John Schneider and Tika Sumpter, returns for its new summer season on Tuesday, June 30 at 9 p.m. ET/PT.  The popular comedy series "Love Thy Neighbor" from Tyler Perry, featuring ornery but loveable Mama Hattie (Patrice Lovely) and her Love Train Diner, returns Friday, June 26 at 9 p.m. ET/PT with two back-to-back episodes.
Yandy Smith tied the knot with Mendeecees Harris
Photos: Rowena Husbands
Sponsored by Monami Entertainment, EMVE Management, MYX Fusions Moscato and Ciroc, the M-Powered Brunch event took place at New York's Red Stixs, where a handful of friends and family gathered to wish the brides-to-be well. Attendees included the groom Mendeecees Harris, Tasheera Simmons, Rotimi (Starz' "Power"), Meeka Claxton, Tamika Mallory, Rae Holliday (Stuff Fly People Like), Gabriel Williams (Stuff Fly People Like), Shirea Carroll (VH1), Soraya Joseph (NecoleBitchie.com), Danielle Young (HelloBeautiful), Delaina Dixon (VH1 "The Gossip Table") and more.
Guests indulged in bottles of MYX Fusions Moscato and Ciroc cocktails. Mona and Marilyn gave heartfelt remarks about their long-lasting relationships with Yandy and Sunita. The room was filled with love.
For more information on MYX Fusions Moscato, visit www.MYXFusions.com and join the social conversation at @myxfusions using the hashtag #GetIntheMYX. Visitwww.ciroc.com or @ciroc to find out how you can have a #CirocSummer.
MEDIA INQUIRIES: saptosa@135stAgency.com
>>>CLICK HERE To See Full Album<<<
//////////
//////////
//////////
They are squad deep! Street Money's own artist: Bankroll Fresh came thru to take some photo ops, and he also gave UFE-TV a drop. His single is blazing the radio "Hot Boy." It's doing really well and the attendees was happy to see him. The event was sponsored by Red-Bull and Circo- we ate good too-as always! All of the Street Money artist has been working very deligently behind the scenes and had some awesome music to showcase to all attendees.
//////////
WE TV'S CUTTING IT IN THE ATLPRIVATE SCREENING
 UFE-TV ACCESS was granted to attend the private premiere of WE tv's new upcoming reality show: CUTTING IT IN THE ATL. This was an additional invite and event seperate from the sneak preivew. WE tv hosted a blue carpet premiere which had over 400 guests that came out to the Woodruff Arts Center, that came out to support the highly-anticipated show and to catch a sneak peak of the first episode. Boy was it packed with familiar faces and great networking hands down!
Cast members Maja Sly, Mushiya Tshikuka, Beautii Joseph, Lakenya Morris and Dedra Allen hit the carpet amid a throng of excited fans and photographers. WE tv president and general manager Marc Juris, along with "Cutting It" executive producers Kate Farrell, Robyn Schnieders, Jordana Hochman and David Stefanou were also on hand to celebrate the show.
Attendees included Egypt Sherrod (radio/tv personality, author and moderator for the Q&A)  Claudia Jordan(Bravo/Real Housewives of Atlanta), Cynthia Bailey (Bravo/Real Housewives of Atlanta), Kandi Burruss(Bravo/Real Housewives of Atlanta), Mimi Faust (VH1/Love & Hip Hop Atlanta), Dr. Heavenly (BRAVO/Married to the Medicine), Toya Bush (BRAVO/Married to the Medicine), Bobby Valentino (R&B Singer), April McRae & Priyanka Banks (VH1/Sorority Sisters), Ming Lee (Snob Life Studio), DJ Fadelf (author Single Man, Married Man), D. Woods (actress, Blackbird), Willie Moore Jr. (The Nightly Spirit/Reach Media), Angela Robinson(OWN/The Haves and the Have Nots), legendary Atlanta recording artist Kilo Ali, social media phenomenon Ms. Foxy, actor/athlete Stevie Baggs, Stacii Jae Johnson (radio/tv personality), Y'Anna Crawley (BET/Sunday Best), celeb hairstylist Nataki Minix, Zebulon Ellis (BET/Sunday Best) and many more.
Guests enjoyed a cocktail reception followed by the screening and a lively Q&A moderated by Egypt Sherrod.
Cutting It: In the ATL premieres Thursday, May 21 at 10PM ET/PT on WE tv. 
TRAILER: https://www.youtube.com/watch?v=aRd8DUBaMVg
http://www.wetv.com/shows/cutting-it-in-the-atl
FOLLOW ON SOCIAL MEDIA:
#CuttingIt
@CuttingIt_WEtv
@Wetv
>>>CLICK HERE & HERE To See Full Album<<<
//////////
I LOVE MY PLUG LISTENING SESSION FOR RICO RICHIE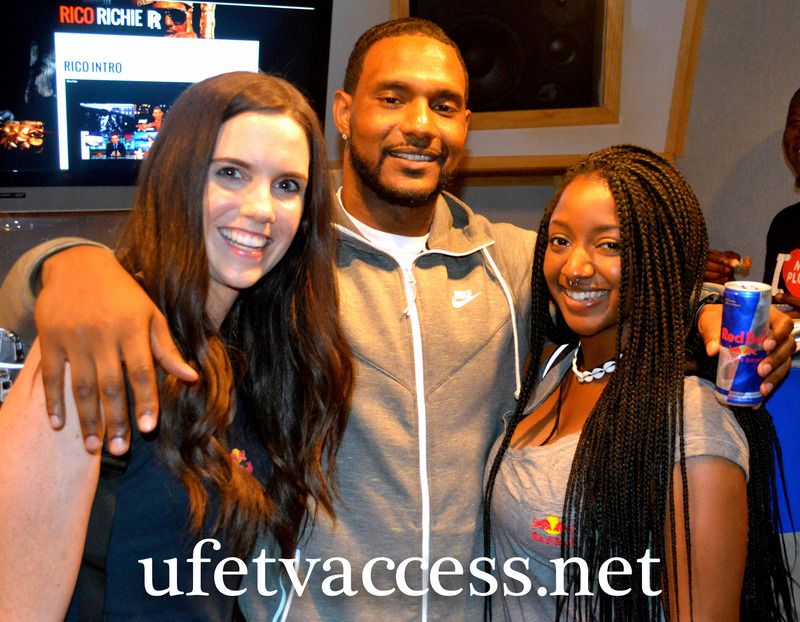 UFE-TV ACCESS was granted to the weekly listening sessions at I LOVE MY PLUG STUDIO'S at 1200 Spring St NW in downtown Atlanta. RICO RICHIE just released a new mixtape and before it dropped, the attendees had the opportunity first hand to hear what they have been cooking up in the lab. The event was sponsored by Red-Bull and Circo- we ate good too! Rico Richie has been working very deligently behind the scenes and had some awesome music to showcase to all attendees. He played every track on his project so look out for RICO RICHIE on Dat Piff and Live Mixtapes.
>>>CLICK HERE To See Full Album<<<
//////////
WE TV'S CUTTING IT IN THE ATL SNEAK PREVIEW
UFE-TV ACCESS was granted to attend WE tv's new reality show CUTTING IT IN THE ATL! They hosted a private blogger  for a small group of press and hair/beauty influencers at the TWELVE Hotel in Atlantic Station. Meet the cast members Beautii J, Dedra Allen, Mushiya Tshikuka, Maja Sly, and LaKenya Morris.  The ladies were flawless with fashion and beauty, and they were real, and really personable. We had the opportunity to interview the case as well. There were complimentary drinks and food for all attending guest. The cast answered questions about the new show, which premieres Thursday, May 21 at 10/9c on WE tv. Also in attendance were WE tv executive producers Robyn Schneiders and Kate Farrell along with WE tv executive vice president of original programming, Lauren Gellert.
>>>CLICK HERE To See Full Album<<<
//////////
I LOVE MY PLUG LISTENING SESSION FOR THE SHOP BOYZ
UFE-TV ACCESS was granted to the weekly listening sessions at I LOVE MY PLUG STUDIO'S at 1200 Spring St NW in downtonw Atlanta. The Shop Boyz just released a new mixtape and before it dropped, the attendees had the opportunity first hand to hear what they have been cooking up in the lab. The event was sponsored by Red-Bull and Rose- we ate good too! The Shop Boyz played every track on their mixtape, and it is available on Dat Piff and Live Mixtapes.
>>>CLICK HERE To See The Full Album<<<
//////////
ATL ICONIC NIGHTS
UFE-TV ACCESS was the media sponsor for this ICONIC event! Icon Studios Atlanta Presented their monthly event Iconic Nights "Artist Development" Industry Mixer, focused on empowering the craft of being an artist/songwriter. The guest panelists was  Cheryl Harris (Studio 27), Chris Willis (EDM Artist), Natarsha Garcia (AGI Performing Artst & Entertainment) & Leon Lee (Konvict Muzik). Man! They had some awesome performances by Glamour, Jori, Shaun Rose, and Gold Shades! Follow @iconstudios on IG to followup with upcoming events!

>>>CLICK HERE To View Full Album<<<
//////////
ROSA REGALE SCANDALICIOUS VIEWING PARTY
photo cred: Jasmine Alston Photography
UFE-TV ACCESS was granted to attend the Rosa Regale Scandalicious watch party hosted by Demetria Lucas D'Oyley. There were many socialites in attendance and everyone had a good time drinking Rosa Regale favorites, mingling, and complementary  hors d'oeuvres. Many selfies and usies were being taken on the commercial breaks, and Demetria also gave away 20 books via raffle tickets through out the night as well.
There were Complimentary chic gift bags featuring Rosa Regale products and samples that attendees got to take home. Everyone is definitly ready for this weeks season finale. If you would like to attend, visit the social media info below.
OUR INTERVIEW WITH DEMETRIA LOCUS: CLICK HERE
Social Media
Twitter: @RosaRegale
Instagram: @Rosa_Regale
Facebook: www.facebook.com/RosaRegale
Event Hashtag: #RosaWatchParty
>>>CLICK HERE To See Full Album<<<
///////////
JAMBOREE 2015
UFE-TV ACCESS was mos def granted to the 19th annual metro Atlanta Spring Jamboree! BIG S/O TO MUSIC GREEKS! This event was held at the James Halford Stadium on Memorial College Ave in Clarkston GA. It felt like a mini-homecoming: there were many FAMU Marching 100 Alumni out there, music greeks, band staffs, and we met some of the staff behind the movies Drumline 1 & 2. This big annual event is always a great turn out, and its a combination of various bands/schools that come together to compete against one another to show Atlanta their skills and relevance in the land of the bands. It was a great time, great energy, and great efforts that were all brought out to showcase the skills of both the bands and band directors/staff.
THE MATCH-UPS INCLUDED:
SOUTHWEST DEKALB VS. TRI-CITY HIGH SCHOOLS
MLK VS. STEPHENSON HIGH SCHOOL
ARABIA MOUTAIN VS. CREEKSIDE HIGH SCHOOL
STONE MOUTAIN HIGH SCHOOL VS. RICKARDS HIGH SCHOOL
>>>CLICK HERE To See Full Album<<<
//////////
 JERMAINE DUPRI
Producer and entrepreneur Jermaine Dupri and So So Def have partnered with That Level, LLC on the release of "4 Lanes," a simple iOS game inspired by Dupri's 1998 hit song "Money Ain't A Thang."
The rules of the game are to collect as much money as possible while staying away from "haters." Beat your high score or your friends' scores.
 An avid gamer for years, Dupri first entered the gaming industry in 2000 when he produced a tune for Ludacris that became the theme song for EA Sports' Madden 2000. "4 Lanes" is available for free on iTunes now.
DOWNLOAD 4 LANES: CLICK HERE
4 LANES PROMO VIDEO: CLICK HERE
MASHABLE: CLICK HERE
MEDIA INQUIRIES: saptosa@135stAgency.com
//////////
 ATL LISTENING JAM
URBAN FEMALE ENTERTAINMENT & DYNAMIC VIZIONS came together yet again with another event for independent artist: ATL LISTENING JAM. The concept of this event is to bridge the gap between independent artist and music industry DJ's that has the power to spin their music and give the artist opportunities; at ATL Listening Jam, the artist also has the opportunity to receive immediate feed back from our selected DJ Panel on the single that they are pushing, and the panel also lets them know whether or not their single is radio radio ready. We had about 12 artist that had the opportunity to play their music for our hand selected DJ panel from our music industry contacts.
This event took place at the Speak Easy Room upstairs from the Music Room 327 Edgewood Ave in downtown Atlanta GA.  If you missed out, don't worry- because another opportunity is coming your way May 31, 2015 from 6-10pm. We had a guest speaker Ny Lady Jae, the New Music Programer form Hot 107.9fm come out and speak to our attendees. That was a speech to remember because she dumped her whole bucket of CD's on the floor, making her point of how so many artist send their music into to the radio station, and 95% either has more than one song it, or does not have any contact information. Case and point was the recording artist Feddy Wop. He turned in his CD a year ago to the station with no contact info. It was a night to remember. We mos def had a packed house and DJ Be Easy on the 1's & 2's. This month's panel was:
DJ STAR- POWER 94.3FM
DJ WAFFLES- BE 100 RADIO
DJ ROOTS QUEEN- DRUM SQUAD & COALITION DJ'S
KECIA J- TALENT MANAGER
>>>CLICK HERE To See Full Album<<<
//////////
LITERACY 2 LEGACY AWARDS: CASINO ROYALE
UFE-TV ACCESS was granted into the Literacy 2 Legacy Awards! This was the 10th Year Anniversary Benefit Celebration: Casino Royale. Man this was a superdope event! Always good seeing familiar faces, and this event was the epitome of a good time, all for a good cause. There was an extravagant green carpet, gaming, silent auctions, and awards. This Monte Carlo Casino Royale will be held at the Intercontinental Hotel in Buckhead, hosted by actor and comedian Rodney Perry and sounds provided by Majic 107.5's DJ Hershey.
The honorees included: The Honorable Mayor Kasim Reed (Empowerment Award), Ryan Cameron (Legacy Award), Carl Payne (Trailblazer Award), Eric Matthews (Game Changer Award), Shashicka Tyre-Hill (Entrepreneur Award), Eugene Grdner (Mentor Award), Deontate Hann (Overcomer Award), and Alesha Thomas-Morgan (Advocacy Award).
The reason for this event was to not only celebrate but to donate. Literacy 2 Legacy, Inc's., founded by Diana Lynch, Esq., latest venture is the Legacy House which will be headquartered in the Mechanicsville community. There were silent auctions in the back of the room with items and services from Derek Blanks, dream vacations, and more. All donations and proceeds from this event will benefit the Legacy House. The Legacy House will be the administrative headquarters for homeless women and children to provide a year-long incubator program for 14 families who are transitioning from homelessness back to society and giving them a place to stay so they can get back on their feet.
The 10th Anniversary Benefit Celebration Casino Royale attracted a strong VIP list of over 400 elected officials, celebrity guests, television personalities, athletes, nonprofit organizations, corporate and legal professionals. This party served a strong purpose and was most definitely an evening to remember. Attendees also enjoyed passed out hors d'oeuvres and drinks.
>>>CLICK HERE To See Full Album<<<
//////////
PILLOW TALK WITH MS. BO TALLEY
UFE-TV ACCESS was granted to JAVA VINO 567 North Highland Ave Atlanta GA 30307- to capture moments and create memories at Sweet As Hunni Designs event "PILLOW TALK." This event was an awesome women empowerment event, where Ms. Bo Talley was the guest speaker. She spoke about her experience as a philanthropist-the ups and downs, the challanges of being a woman in her field, & relationship based questions and answers took place as well. The audience had opportunities to ask questions and recieved some great feed back with words of wisdom from Ms. Bo Talley.
There were refreshments laid out for attending guest, a nice gentleman that served all of the lovely ladies wine, and the ambiance was A1! The setting was very intimate, and there was a handsome gentleman serving everyone wine. After the Pillow Talk, there were plenty of photo opps and networking that took place.
>>>CLICK HERE To See Full Album<<<
//////////
SHEEN MAGAZINE LEGENDARY WEEKEND
UFE-TV ACCESS was granted into the kickoff party held at Museum Bar.  SHEEN Magazine launched its first annual Inaugural "LEGENDARY WEEKEND" with a successful kick off porty! Guests enjoyed flowing cocktails by Ciroc and  the thumping sounds of renown DJ Fadelf along with LIVE performances by the suave and debonair men of the R&B group  Bluff City, the sizziling and steamy all girl trio BLISS, the vocals and swooning sounds of Final Draft, and the live and Acoustic sounds of Adrian Blu.
The night included many entertainers, public figures, and a packed hosue of attendees such as: SHEEN Magazine Publisher Kim Chapman & Family, Erica P.(LHHATL), Deb Antey (LHHATL & BE100 Radio), Foxxxy Loxxy (A&E's 'Beyond Scared Straight'), R&B recording artist Dondria, Tyra B!, Jonica 'Blu' Booth (Oxygen's Bad Girls Club S12), April LOVE PR, and many more. For more information on SHEEN Magazine, visit: www.sheenmagazine.com
>>>CLICK HERE To See Full Album<<<
//////////
THE 2015 DREAM PROJECT IN ATLANTA GA
UFE-TV ACCESS was granted to attend and capture moments of the DREAM PROJECT. This was our 2nd time attending and this inspiring event just keeps growing every year! The plethora of networking was insane, and we ran out of business cards to say the least. Many aspiring entrepreneurs were in attendance for this two day extravaganza!!
The DREAM PROJECT took place at The Georgia World Congress Center in Atlanta, Georgia. There were various breakout sessions where numerous entrepreneurs/CEO's had the opportunity to share their success stories with the crowd, and the attendees were able to ask questions and receive answers on the spot. There were also small business pitch competitions which was really nice and good practice for aspiring dreamers. Estelle did an awesome job with giving the opening performance singing her hit song she sang on EMPIRE "I'm a conqueror."
This two day event provided lunch both days, and on the second day, Chef Roble joined us and such an honor it was. There were branding insights given to fellow dreamers as far as froth strategies, networking tactics, how to attract investors, and overall techniques on "hw to come up." Everyone that is successful today all started from somewhere, and what we all have in common is that we are all dreamers. India Aris closed the set out as she shared her journey with the crowd inbetween songs. Some skilled keynote speakers whom included, Soledad O'Brien (Award Winning Journalist and CEO of Starfish Media), Desiree Rogers (CEO of Johnson Publishing Company), Chef Roble` (Roble` & Co.), Dr. Bruce Wilkinson (Anointed Speaker and Author of "The Dream Giver"), Jonathan Sprinkles (Connection Coach and Author).
For more information, please visit www.dreamprojectonline.com
About Egami Consulting Group
Egami Consulting Group is an award-winning, woman-owned, NMSDC and WBENC certified minority marketing firm specializing in linking brands to urban and multicultural consumers via inspirational platforms. Founded in 2003 by Teneshia Jackson Warner, Egami provides brands ways to "INSPIRE", "CONNECT", and "ACTIVATE" consumers through innovative best-in-class marketing campaigns, strategic partnerships, custom community programs, and/or new products. For more information, visit www.egamiconsulting.com
2015 Dream Project Sponsors :
Prudential Financial
Samsung Business
Delta Air Lines
Verizon Wireless
Continue the Conversation:
Twitter/ Instagram/ Facebook:
@EgamiConsulting | #Dream2015
>>>CLICK HERE To View Full Album<<<
//////////
VERIZON'S ATLANTA FASHION EVENT
UFE-TV ACCESS was granted into the Verizon Atlanta Fashion City Session. This was an exclusive and intimate 2-hour event consisting of an open-forum panel led by the project CEO & Founder, Alechica Reese. It was real cool vibe and nice setting that took place at the M-Rich building 115 MLK in downtown Atlanta. They had a panel set up, and they were all CEO's and business owners, which was really nice to see.
The audience witnessed a runway presentation by New York Fashion Week's very own, Allusions by A.Lekay. Panelists included: Celebrity Fashion Designer, Altrichia Cook of Allusions by A.Lekay; Celebrity Hair Stylist, Jasmine Nikol; Fashion Business Owner, Danielle Cardriche; Fashion Photographer, Sherrod Bolden; Celebrity Fashion Stylist, Leah Taylor; Emerging Make-up Artist, Ashlee "Love Lee Looks" Smalls; Emerging Fashion Designer, Demariyon of Kings Clothing Co and Fashion Branding Expert, Stacye J. They presented a fashion show, and the networking was great!
>>>CLICK HERE To See Full Album <<<
/////////
FLY CANDY JEWELZ LAUNCH PARTY
UFE-TV ACCESS was granted to capture the moments and create the memories for FLY CANDY JEWELZ Launch party that took place at the Pink Zebra located in Little 5 points in Atlanta GA. Fly Candy Jewelz is an accessory brand inspired by exclusivity, originality, & fly fashion. The brand is a conglomerate of hand crafted and select pieces suitable to compliment any look. Many customers came through to the Pink Zebra to visit FLY CANDY JEWELZ. The ladies were trying on the hand crafted pieces, admiring the work, and the fly candy was mos def eye candy! To view more of their items/products, visit www.flycandyjewelz.com
>>>CLICK HERE To See The Full Album <<<
//////////
COCKTAILS & CONVERSATIONS
UFE-TV ACCESS was granted to attend Impact Magazine's COCKTAILS & CONVERSATIONS. The networking was THAT DEAL, because there were so may familiar faces, as always some new ones and the cocktails were on deck! If you haven't heard, this event has been going on monthly at the A-LOFT Hotel in downtown Atlanta, and each month- Impact Magazine invites different celebrity guests out and conduct interviews. The networking is always great!
This month's event celebrated the relaunch and anniversary of publicist Nikki Walker PR, and also Impact Magazine sat down and interviewed Debra Antney, Founder of Mizay Entertainment. If you missed this month's event and reside in Atlanta, the next event is May 30th so mark your calendar and bring your business cards.
>>>CLICK HERE To See Full Album<<<
//////////
MONEY N VIOLENCE EVENT
UFE-TV ACCESS was granted to attend this wonderful event! New York comes to Atlanta with the premiere of Money N Violence, one of the hottest and most talked about web series garnering over 500,000 views per episode. Have you heard of it or seen it? If not you're slipping! This event took place at Kapture, 75 Peachtree Place NW, Atlanta, GA.
Elite Famed Entertainment and Cloud 9 TV rolled out the red carpet for the Atlanta premiere that was hosted by Rafe and Mizz, stars of Money N Violence, and DJ Greg Street. Music provided by NYC's Power 105.1 DJ Self and special guest performances by Murder Gang Musix Group's Maybaxh Hot, performing his hot single "Money & Sex."
CLICK HERE TO CHECK OUT THE EPISODES OF MONEY N VIOLENCE
>>>CLICK HERE To See Full Album<<<
//////////
JABREYA'S SWEET 16 BIRTHDAY CELEBRATION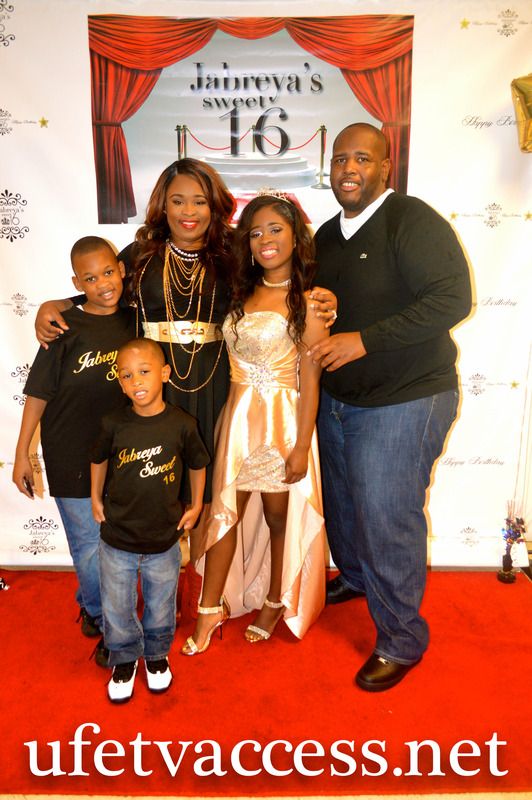 UFE-TV ACCESS was granted to capture the moments and create #superdope memories for 16 year old Jabreya! Many family and friends came out to help this lovely young lady to celebrate life. Jabreya is the daughter of Glam Coordinator and Creator of the Make Up Artist of Atlanta: Bella Rose.
There was plenty of food, great music, lots of familiar faces, and of course the red carpet set the tone for this big celebration of life. To top things off, after everyone was full, and danced their heart out, Jabreaya's parents surprised her with a brand new 2015 BMW! She was shocked as well as the rest of us! It was such an awesome time, and we're glad to have been selected to be apart to capture these moments, which is now history.
>>>CLICK HERE To View Full Album<<<
//////////
BROTHERLY LOVE PRIVATE SCREENING
UFE-TV ACCESS was granted to capture the moments and create memories for the private screening of Brotherly Love! Atlanta rolled out the red carpet as the cast of "Brotherly Love" attended the star-studded screening at Phipps Plaza. Flavor Unit Entertainment, a production company owned and operated by Queen Latifah and her partner Shakim Compere, have teamed up with Jacavi Films and Electric Republic to produce "Brotherly Love" set to release April 24, 2015. In attendance were cast members KeKe Palmer, Cory Hardrict, Eric Hill Jr., Quincy Brown and Julito McCullum. As a special treat, guests were able to partake in a Q & A session with the cast. Special guests of the screening included, Mayor Kasim Reed (City of Atlanta), Brotherly Love producer Jacob York, Toya Wright, Christina Johnson (vh1's Atlanta Exes), Shay Johnson (vH1's Love & Hip Hop Atlanta)and Rebecca Weil (The Duff).
We are from Philly, so it was easy to recognize the settings in this film. Brotherly Love was set in West Philadelphia, born-and-raised basketball star Sergio Taylor (Eric D. Hill Jr.) deals with the early pressures of fame. Alongside older brother June (Cory Hardrict), who lost his own hoop dreams to the streets to provide for the family after their father¹s death, and sister Jackie (KeKe Palmer), whose own musical ambitions are sidetracked by love, Sergio faces life-altering decisions on the streets of Philly. The film's cast includes: Macy Gray, Malik Yoba, Romeo Miller, Jay Lewis, Logan Browning, Faizon Love and Teyana Taylor.
>>>CLICK HERE To See Full Album<<<
//////////
LAVENDER'S JUNGLE FASHION SHOW
UFE-TV ACCESS was granted to view the lovely fashion show of the Lavender Jungle's Brand. Lavender's Jungle is a woman's clothing designer for sizes 12-24. Their slogan is "Surrender The Curves Of Your Canvas To The Artistry Of My Imagination." They had a lot of support and sponosrs for the event and alot of media.
Official Media Sponsor
POSE Magazine
Presenting Sponsor
Microsoft Corporation
Platinum Sponsors
DeVoe Signature Events
Live Lavish Access
Gold Sponsors
Blaq Pearl Entertainment
Livi Rae Lingerie
SHE Sparkle Hyche Enterprises
The Curvy Fashionista
Righteous Entertainment, LLC
Product Sponsors
Aveda Institute of Atlanta
Hogan Institute
Salon Envy
>>>CLICK HERE To See Full Album<<<
//////////
ATL LISTENING JAM
URBAN FEMALE ENTERTAINMENT & DYNAMIC VIZIONS came together with such an awesome event for independent artist: ATL LISTENING JAM. The concept of this event is to bridge the gap between independent artist and music industry DJ's that has the power to spin their music, and the artist also had the opportunity ti receive immediate feed back on the single that they are pushing, and whether or not their single is radio radio ready. We had about 15 artist that had the opportunity to play their music for our hand selected DJ panel from our music industry contacts.
This event took place at the Speak Easy Room upstairs from the Music Room 327 Edgewood Ave in downtown Atlanta GA. This will be a monthly event because we had such an amazing turnout at this last event. If you missed out, don't worry- because another opportunity is coming your way April 26, 2015 from 7-10pm. We had  guest speaker Mogul B. Scott from the reality show "Sisterhood" who's also an A&R to come out and speak to our attendees. We mos def had a packed house and DJ Big Lex from Miami on the 1's & 2's. This month's panel was:
DJ AARIES- HOOD HARD DJS
DJ FERNO- COAST 2 COAST DJS
      DJ KUTT THROAT- I LOVE MY PLUG DJS
DJ KD THE HAN D MAN- CORE DJS
>>>CLICK HERE To See Full Album<<<
//////////
SNOOP'S 30TH BIRTHDAY PARTY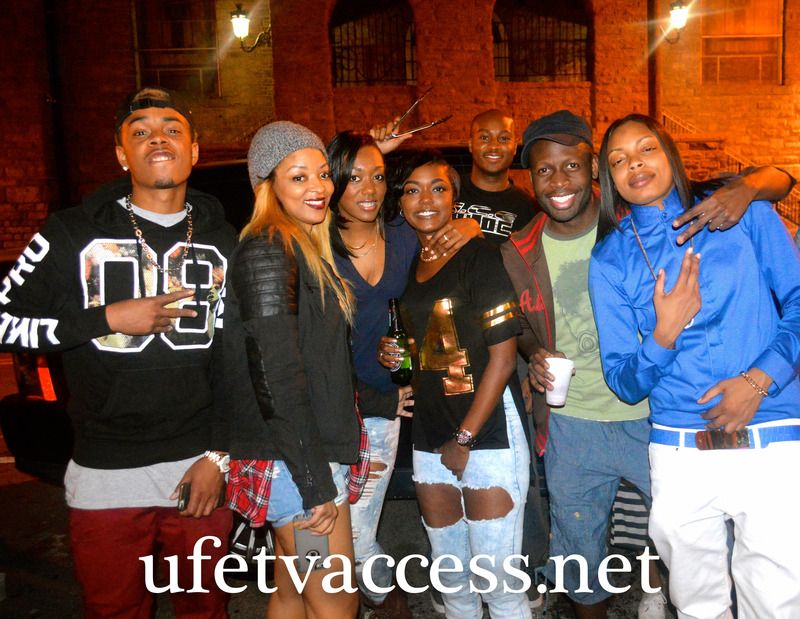 UFE-TV ACCESS was granted to capture the moments and create the memories for Snoop's 30th birthday. Snoop is the owner of party bus kings, and the Hookah Hideaway located at 43 Jessie Hill Jr Rd in Downtown Atlanta. Snoop had an amazing turnout, drink specials, the food was on deck and on point, and many gathered to celebrate the dirty thirty birthday celebration. Funky Dineva also came out to share laughs and drinks with the crowd.
>>>CLICK HERE To See Full Album<<<
//////////
JAY Z LAUNCHES TIDEL: A MUSIC STREAMING MUSIC SERVICE 
Photo: Yani Hesiler
Have you heard about the Tidel Press conference? Who wouldn't want their music service controlled by musicians rather than self-serving record labels and profit-driven venture capitalists?
This was a genius move. The meeting took place during the Grammy Weekend in LA, and Jay Z gathered everyone in an all day meeting to get this idea in everyone's head.  Think of all of the exclusive content.  TIDAL co-owners Kanye West, Madonna, Nicki Minaj. Beyonce, Jack White, Alicia Keys, Rihanna, Chris Martin of Coldplay, Usher, Daft Punk, deadmau5, J Cole, Jason Aldean, Calvin Harris and Jay Z all delivering music and videos that fans can't find anywhere else!
While the launch was long on star power, it was short on details; however, what we have learned is that TIDAL has some work to do before its lives up to yesterdays 'artist's revolution' hype.
TIDAL's "mission is to reestablish the value of music and protect the sustainability of the music industry rooted in creativity and expression," according to the "declaration" signed yesterday by the 16 stars dubbed "The Avengers of Music."  Thus far, however, the 'the music rewrite' appears to only be for the superstars who took the stage alongside Jay Z.
Each artist-partner has reportedly received a 3% stake in the new music service. How or even if TIDAL might be better than Spotify and other competitors for the tens of thousands of other working musicians who increasingly rely on streaming income, remains unanswered. Stay tuned in…
//////////
INTERVIEW WITH TYRESE
UFE-TV ACCESS WAS GRANTED to interview aritst/actor/film producer/author: Tyrese Gibson on his /press/media day, and boy was it an honor.  We learned alot about him, and got to know him on a more personal basis. During the interview, Tyrese mentioned that if he would not have passed the audition that his MUSIC teacher at the time told him about, dealing with his debut to the world when did the commericial singing the Coca-Cola song on the bus, he would not be where is right now. He's always had a strong passion for music, and that audition has opened up many doors for him. Baby Boy for his first movie, and since then, he has played in starred in several movies, even landing a contract with the fast and furious; part 7 came out 4/2/15.
Black Rose is the title of his last and final studio album. During the interview, Tyrese said he took a bunch of writers, musicians, and producers, and put them all in a house for 34 days, and they cut 146 songs! WOW! That's similar to how Timberland, Missy, Jodeci, Aaliyah, Playa, and all those cats did back in the day. It's all a structured formula, and it worked. It's ok to be a copy cat, as long as you copy the right cat. Black Rose drops July 7, 2015. The first single is called "Dumb Shit" featuring Snoop Dog, and Wiz Khalifa, and it is available on iTunes.
//////////
ATL LUNCH & LEARN
ATL LUNCH & LEARN was another successful event! Urban Female Entertainment, Quente'Sential Branding, & Be Magazine put together another awesome event for the community MARCH 28, 2015. Our guests enjoyed the networking scene in conjunction with our sponsored lunch by the staff. It was a real cool vibe and everyone was chill. This monthly event ATL Lunch & Learn was also sponsored by Tee's & Quote at 244 Peter Street Atlanta GA. Big S/O to our sponsors!!!
Our panlist were hand picked from our network, and there were several topics such as the entertainment business, media, entrepreneur concepts, & how everyone on the panel got started and grew into their current status & more.  The audience was really engaged into the paneled discussions and when it came to asking questions, no one in the crowd was shy. It was an intimate setting that included alot of knowledge, wisdom, networkers, grinders, media, and supporters. Our MARCH panelist  were:
KELSEY NICOLE OF COUPLE'S THERAPY
DON JUAN: GENERAL OF KANDI KOATED ENTERTAINMENT
PRINCE CARTER: CELEBRITY MEDIA PERSONALITY
JAKEEM SMITH: CELEBRITY PUBLICIST
PRINCESS BANTON-LOFTERS
>>>CLICK HERE To See Full Album<<<
//////////
NYLA VAMP'S PHOTOSHOOT
Rapper/Actress Nyla Vamp was born Anna Lankford on July 12 1993 in Venice, CA. With nine siblings growing up, being the middle child allowed her a chance to absorb the maturity of her older siblings yet she still has a youthful attitude that she gained playing with youngsters in the family. Recognizing her need to perform on a major platform, her parents enrolled her in ballet, contemporary modern, tap, jazz and ethnic dance beginning at the young age of 2. In addition to taking professional dance classes at Santa Monica College, she became aware of her talents as a singer in the Holy Name Catholic Church Choir. It was at Culver City High School that she knew that her voice was above average while performing with the Chamber Choir.
While most will identify Nyla Vamp as rapper/singer, becoming a working SAG-AFTRA member has landed her several opportunities to be in front of the camera. As a child she has been featured in commercials for Barbie, Tylenol and Corn Pops Cereal. After relocating to Atlanta, GA in 2013 she was able to add to her acting resume with appearances on BET-"The Game", BET-"Being Mary Jane" and Bishop TD Jakes Talk Show "Mind, Body and Soul"  and feature film "Lila and Eve".
Though you can catch Nyla Vamp rocking to oldies but goodies from greats such as Smokie Robinson, Blue Magic or Ted Nugent, her goals are set to gain a lasting fan base in the hip hop community. Her contagious confidence has quickly gained the attention of LA and Atlanta Tastemakers.
>>>CLICK HERE To See Full Album<<<
//////////
EINSTEIN RESTAURANT SPRING MENU PRESS DINNER
UFE-TV ACCESS was granted, as well as a handful of executive press, all gathered at Atlanta's popular Midtown eatery Einstein's as Chef Jaaion Barnes unveiled their new upcoming spring menu. Yall gotta try those lamb chops!! They are to slammin'! We parked valet, and walked into refreshing cocktails and greeted each other.  Chef Jaaion had samples of his cooking laid out for us, and boy we felt so spoiled. Be Magazine served everyone samples of each dish, and that spot is highly recommended if you are ever in mid-town.
Chef Jaaion (a proud New Orleans native) proudly welcomed the press, took photos with everyone, we met the manager of the restaurant, and New menu items consisted of:
Seared Scallops w/ Bacon Scampi Sauce/Fig Preserves/Black Caviar
Filet Au Poivre  w/ Asparagus/Smoked Gouda Mac&Cheese/Whiskey Peppercorn Cream Sauce
Fried Lobster Platter w/ Lobster/Shrimp/Garlic Butter Truffle Fries
Roasted Cordon Bleu Ashley Chicken w/ Swiss Cheese/Prosciutto/Spinach/Mash
Asian Buttered Trout w/ Quinoa/Asian Butter Sauce
Petite Lamb Chops w/ Pesto/Curried Fingerling Potatoes
Tuna Tower w/ Ahi Tuna/Rice/Mangos/Avocados/Sweet Chili Sauce/ Mango Puree
Crispy Asian Salad w/ Shredded Cabbage/Jicamas/Shrimp/Soy Glaze/Crispy Wontons
Argula & Portobello Salad w/ Diced Tomatoes/Onions/Sherry Vinaigrette
>>>CLICK HERE To See Full Album<<<
//////////
DE'LEANTE'S MEDIA DINNER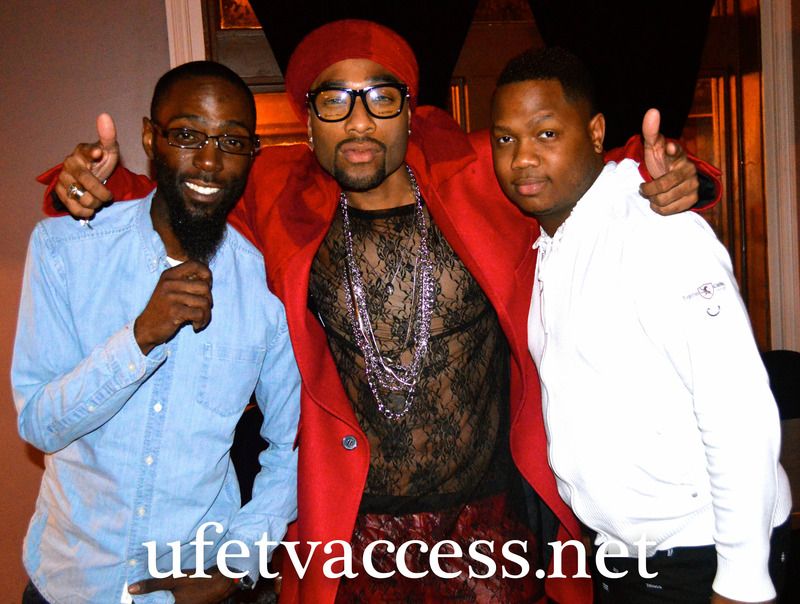 UFE-TV ACCESS was granted to attend the private media dinner for recording artist De'Leante, who came all the way from Detroit MI. It was a pleasure to shoot his photoshoot, and his EPK. There were some hawt media outlets that came out to support De'Leant, brought to you by the Sheridan Group- who came all the way from Las Vegas. Be Magazine and Stacks Magazine were the two media sponsors for this event. This event took place at BQE restaurant and Lounge in downtown Atlanta. Everyone enjoyed great conversations, toasts, photo ops, & video ops. UFE-TV was there to capture the moments and create the memories.
Turkey Sliders
Crab Cake Sliders
BQE Wings
Shrimp N Grits
Chicken N Red Velvet Waffles
//////////
//////////
THE INDUSTRY PROJECT
UFE-TV ACCESS was granted to attend The Industry Project better known as T.I.P. Atlanta Trade Show was held at The Compound ATL, introducing organizer and founder Kourtney Ashley. The event was hosted by one of the most influential style blogs in the world Fashion Bomb Daily's Claire Sulmers and Fabolous. This event highlighted a super-dope fashion show that featured designer House of Chapple's Reco Chapple, Designs by Dionique, and King Pop of Pop Culture Clothing. There were lots of media, vendors, and tastemakers in the building.
The Industry Projects showed Atlanta that tastemakers can come together from out of town and locally to network, be entertained, eat and drink. Some vendors included: Dainty Apparel Designer: Shop TB Jeanz, Crazie for Lashes, PZI Jeans, POP Culture Clothing, Joy Baker, Junes Yves Marie, LYFE Designer: Natasha Foster, Mulah Cosmetics,  Valoh Designer: Topaz Valoh Shoe Lounge Atl, Sweetie Sweeties Cupcakes, Strawberry's Closet, Flyy Kidz Clothing, Designer Iman Akilah Company, Candy Mac Candles, DOE, JB Extensions, Level 7 NYC, and His & Her Hookah.
The Industry Project Atlanta Trade Show added a lucrative project margin for the city's retailers. "The goals for every show are to showcase up and coming designers, boutique owners, artist, and beauty gurus and successfully leave a mark in the industry," says Kourtney Ashley.
>>>CLICK HERE To See Full Album<<<
///////////
MUSIC BUSINESS EMPOWERMENT CONFERENCE
UFE-TV ACCESS was granted to attend the 1st annual Music Business Empowerment Conference. This event was designed to bring together industry professionals, new talent, seasoned artists, and the next generation of rising stars. It was superdope. This event took place at the Holiday Inn at Capital Park on Virginia Ave. There were many familiar faces at the conference which is always a good thing.
The Music Business Conference welcomed everyone who has a passion for music-and the love for music as an art and a career, starts within the heart first. If you do not love what you do or have a passion for it, then why are you doing it and waisting your valuable time that you cannot get back?
The opportunity to network was wide openat the MBE Conference. The evening started with the red carpet, following the artist showcase. It was a great opportunity to meet other attendees, which many were from out of town.  It was a three day event, and if you missed out, you missed out on some awesome networking!
>>>CLICK HERE  To See Full Album<<<
//////////
PRIVATE PRESS CONFERENCE FOR THE UPCOMING MOVIE: "THE HILLS"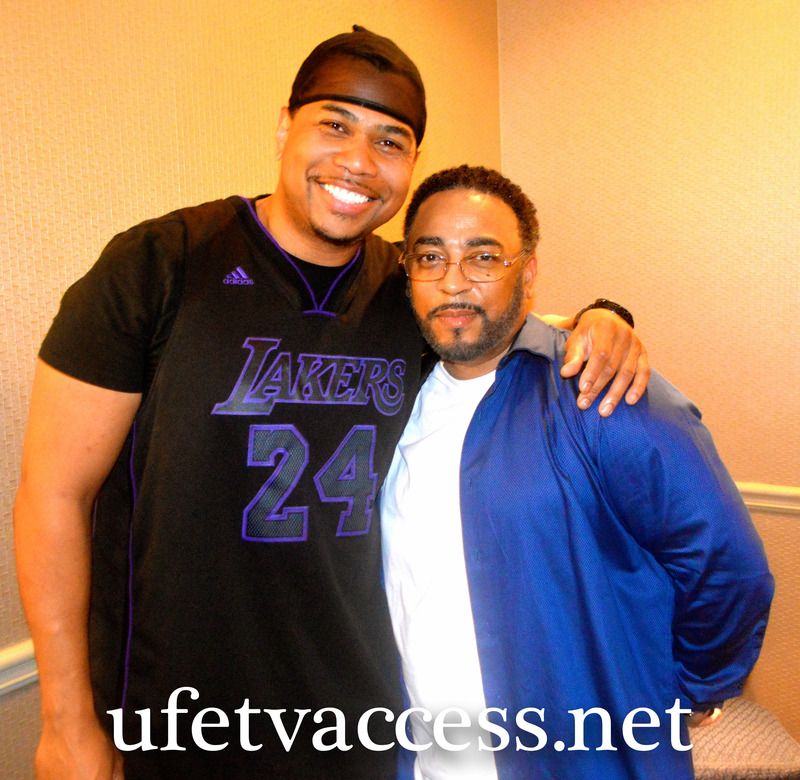 UFE-TV ACCESS was granted to come and meet and greet the cast of the upcoming movie THE HILLS written and produced by Stephen "Stix" Josey.  This event took place at the Ramada Inn Capital Park in Atlanta GA. This movie is about a young man by the name of Jeremiah Matthews JR who is a full time student going to school to become a doctor, receives news from his Captain at his job that he has been selected to go into the Los Angeles Police Academy. This will allow him to become a Detective. He is very happy about the great news.
His real quest in life has always been to carry on the legacy of his father, Detective Jeremiah Matthews Sr., who was killed while on duty in Los Angeles. Jeremiah Matthews Jrs. life, however, is suddenly turned upside down when the killer of his father is now trying to kill him. He finds out what an injustice the Justice system really is when a selfish lawyer sides with the killer to bring him down for trying to protect himself. The real question becomes what side of the law are you on?
Written/Produced/Directed by:
STEPHEN "STIX" JOSEY
HEEL MY HEART CHARITY BOWLING EVENT 
UFE-TV ACCESS was granted to attend the Heel My Heart Charity Bowling event that took place at Fun Bowl in McDonough, Ga. Heel My Heart hosted its first Heels 4A Cause event for 2015, and it was super dope, with special guest Christina Johnson. There were complementary drinks and cupcakes by Sweet Shots Cupcakes (which are always relish!). It was a cool vibe- and a purple extravaganza!
This event was to combat domestic violence, and some ATL organizations joined focrecs for a positive cause such as the Still Standing foundation, Inspire Team, MizzPretty & Company and the Mackin Project. They had specific bowling lanes blocked off, and all of the bowling lanes were sold out with a total of 12 teams. These teams consisted of small business owners and reality stars. Congratulations to the "Mizz Pretty" Team! They took the trophy for first place!
>>>CLICK HERE To See Full Album<<<
///////////
THE 5TH ANNUAL BLACK WOMEN FILM SUMMIT
UFE-TV ACCESS was mos def granted at the 5th annual Black Women Film Summit!! What an honor it was!  This star-studded event took place at the Atlanta Marriott Marquis. One of the highlights was the highly-anticipated "Untold Stories Luncheon." The ambiance was so inviting and it was just awesome to be there. The luncheon honored the achievements of film producer Will Packer, casting director Robi Reed, 135thStreet Agency founder Shante Bacon, Black Women Film Network Chairman Emeritus Tomika DePriest, Georgia Film &  TV Sourcebook publisher Tia Powell, the Georgia Production Partnership and actors Lamman Rucker and Logan Browning. Comedian JonathanSlocumb hosted the affair and boy was he hilarious. The music provided by DJ Salah Ananse. Young filmmakers (and straight-A students!) Tawanna Easley, Dominique Boyd and Erica Lamberson were awarded scholarships to further their careers in film. Singer/actress V. Bozeman gave a surprise performance of her song "What is Love?" To see her perform on Empire as one thing, but to see her perform in person was something totally different. All we can say was WOW!
Additional luncheon attendees included RHOA stars Kandi Burress and Todd Tucker; V103 personalities Ryan Cameron andStacii Jae; Rashan Ali (CBS Sports),Kysha Cameron (Honoring Hue, LLC), Brely Evans ("Being Mary Jane"), Charity Jordan (SELMA), singer/actress D. Woods (BLACKBIRD), former Destiny's Child members Farrah Franklin and Latavia Roberson;Drea Kelly ("Hollywood Exes"), actress Christine Horn ("Complications"/USA), Atlanta City Council President Ceasar Mitchell, Camille Love (City of Atlanta Office of Cultural Affairs), actress Judi Blair (Magic Mike XXL), comedian/writer Myra J, Palmer Williams ("Love Thy Neighbor"/OWN), singer/songwriter Olrick Johnson, Steven Price (producer, "Dancing with the Stars") and more.
Let's not forget how the morning of the luncheon started! The Summit started with an awesome morning Master Class by Charity Jordan as well as panel discussions featuring Denise Hendricks (producer, HLN's "Morning Express), Connie Orlando (SVP Specials, Music and News, BET Networks), Shante Bacon, Robi Reed, Traci Blackwell (SVP, Current Programming, The CW Network), Jasmin Goodman (ATL WEBFEST), Angela Northington (SVP, Content Acquisitions, Urban Movie Channel), Alonzo Llorens (Attorney, Gordon & Rees) and Bernard Coleman (Attorney, The Coleman Law Firm). What an honor!
>>>CLICK HERE To See Full Album <<<
//////////
SHEKINAH JO'S BE MAGAZINE PRINT COVER RELEASE PARTY
UFE-TV ACCESS was granted to attend the Celebrity Hairstylist/Brand Strategist-Reality Star, Shekinah Jo Anderson (VH1′s: TI & Tiny: The Family Hustle, Tiny Tonight, Tiny & Shekinah's Weave Trip) yes! She joined Be Magzine in celebrating her upcoming BE print issue & cover release; this is Shekinah's 1st print magazine cover ever, and there were many in attendance for this big celebration. Many enjoyed the networking upon Shekinah's arrival, drinks were sponsored by Tiny's Tequila, the food was awesome, and there were many ATL socialites and entreprenuers that came out to support Be Magazine.
please visit www.bemagazine.me for more information and photos
//////////
THE 5TH ANNUAL LEGENDARY AWARDS
This was such a great event!! It was invite only, and we were honored to be selected to be apart of this star studded event. This event was Sunday, March 1, 2015 Fifth Annual Legendary Awards and took place at the
COBB GALLERIA CENTRE, Two Galleria Pkwy Atlanta, Georgia 30339
It was Hosted by Rodney Perry and Andrea Kelly
The 2015 Legendary Award honorees are:
Health Award, Chief Cardiologists, Northside Hospital Dr. Marcus Brown, Service Award
Honorable Max Cleland, Humanitarian Award
Philanthropists Ryan and Kysha Cameron
Sports Award, NFL Hal of Famer, Mr. Lawrence Taylor
Trailblazer Award, Actor, Carl Anthony Payne
Entertainment Award, Singer Shirley Murdock
Brand Ambassadors, John and Rhonda Wilkins
About The Legendary Awards Foundation (501 c 3):
Legendary Awards Foundation introduced The Legendary Health Fund and Initiatives program; it is dedicated to promoting health awareness, preventing health disorders and achieving victory over health illnesses through fundraising, advocacy, education, research and service. They also provided and offered charitable opportunities and activities including but not limited to, community outreach, community development, giving aid to the poor and rendering support to other qualified charities.
>>>CLICK HERE TO SEE FULL ALBUM<<<
//////////
ATL LUNCH AND LEARN
ATL LUNCH & LEARN was another successful event! Urban Female Entertainment, Quente'Sential Branding, & Be Magazine put together another awesome event for the community Feburary 28, 2015. Our guests enjoyed the networking scene in conjunction with our sponsored lunch by the staff. It was a real cool vibe and everyone was chill. Some featured guest included Stevie Baggs, The Makeo Girls, Recording Artist Nyla, Ms. 'Im Promoting You,' & a host of others. This monthly event ATL Lunch & Learn was also sponsored by Tee's & Quote at 244 Peter Street Atlanta GA. Big S/O to our sponsors!!!
Our panlist were hand picked from our network, and there were several topics such as the entertainment business, media, entrepreneur concepts, & how everyone on the panel got started and grew into their current status & more.  The audience was really engaged into the paneled discussions and when it came to asking questions, no one in the crowd was shy. It was an intimate setting that included alot of knowledge, wisdom, networkers, grinders, media, and supporters. The next ATL Lunch & Learn will be held on March 28, 2015. Our February panelist  were:
LATISHA ROBB: MOTIVATIONAL SPEAKER, REALTOR, CONSULTANT
SOLO: PROGRAM DIRECTOR AT STREETZ 94.5
ELDGRIDGE WASHINGTON- FOUNDER OF THE MADE MOVEMENT
VINCE ASHTON: ENTREPRENEUR, WRITER, & SINGER
>>>CLICK HERE TO SEE FULL ALBUM<<<
//////////
MASQ-HAIRADE BALL: LEGION OF GLAM BY TERRENCE DAVIDSON
Terrence Davidson presents Legion of Glam Masq-HAIRade Ball
Man oh Man what an event this was during the Bronner Brothers Hair Show Weekend. Everybody who was somebody in the hair and fashion industry, was mos def in the building!!  There were many Stylist, Barbers, Nail Technicians and Makeup Artists both from ATLANTA and from out of town!!!!
GLAM GLAM GLAM.. The red carpet was rolled out, the staff welcomed everyone as they came through the door, and of course at every event, it is always great networking!! You can see what the "LEGION OF GLAM" IS BRINGING through our photos. If you are unfamiliar with this brand and movement please feel free to visit the website. Again this event tooK place during the BRONNER BROTHERS HAIR SHOW WEEKEND!
>>>CLICK HERE TO SEE FULL ALBUM <<<
//////////
LISA RAYE'S LIFE ROCKS VISION BOARD WORKSHOP TOUR HITS ATL
The Actress, model, fashion designer and mother stops by ATL to share her success stories and visions with 50 chosen ladies on her LIFE ROCKS Tour. It was such a pleasure and an honor to meet Lisa Raye. We all remember her from the movie Players Club, and to see the prosperity and growth is really amazing to witness before your eyes.
Lisa Raye was wonderful in encouraging and guiding the ATL  group of ladies in really asking the hard questions while creating a Vision Board. Some ladies were emotional in a good way feeling accomplished, and everyone wants to get ahead in life, and some of us needs guidance. With Lisa Raye's experience and encouragement, it was quite an experience.
The keynote speak was her pastor Profit Luther McKinstry. He really spoke to the heart, mind, body, and soul. The sponsors were Ashley Stewart, Nancy's Pizza, and Celebrity Chef Kymmis.  50 ladies had the opportunity to create their visions boards, the opportunity to eat, drink, and fellowship amongst one another, while the media captured moments and created memories. Please visit www.lisaraye.com
>>>CLICK HERE TO SEE FULL ALBUM<<<
//////////
BELLA ROSE WEBSITE LAUNCH PARTY
Bella Rose Passion Cosmetics is back and better than ever! This event was dynamice and the Bella Rose Passion Cosemtics is where its at!! The experience took place during Bronner Brothers Weekend. Bella Rose and her staff gave the attendees a chance to browse new color shades just in time for the passing Winter and the emerging spring collection. Some of the women had a chance to get make overs, and had a chance to try out some of the new products. Attendees also had the opportunity to see the piolet video to the new reality show "The Make Up Artist Of Atlanta" #muaatlanta thats coming to a screen near you soon. So stay tuned in.
Bella Rose also gave everyone a detailed walk-through of the new Bella Rose Passion website, while enjoying giveaways, lipstick tutorials and activities that could get you featured on her blog site. So if you missed it ladies, you missed out! Please take a moment and visit her website www.bellarosepassion.com
>>>CLICK HERE TO SEE FULL ALBUM<<<
///////////
WHO'S WHO BLACK HISTORY MONTH AWARDS GALA
CFOX Productions Presented the Who's Who Black History Month Awards Luncheon/Mixer Celebrating Each Others Accomplishments Fighter 57 3829 Clairmont Road Atlanta, GA 30341. This event is so important because it celebrates SUCCESSFUL ENTREPRENEURS and their accomplishments, This concept connects everyone to a great audience of new found history makers to network with. It was a dope event! There was some great talent that performed, great presenters, and some awesome award recipients! We were unfamiliar with everyone except one person; with that being said, it was some awesome networking at this event. It's always good to meet new business people that you can network with and keep in contact with as well.
AWARDS RECIPIENTS WERE:
KENNY PUGH
COMIEDIENNE MZWALLST
REIGNDROP LOPES
STEPHEN BROWN
AUTUMN ESSIE BAILEY-FORD
DR. JAMES JONES
Hosted By
Dr. Alvin S. Perry & Micki Esposito
Sounds by: DJ LeoAtlantaBoiiz
>>>CLICK HERE TO SEE FULL ALBUM<<<
//////////
PHOTO SHOOT FOR CELEBRITY BARBER: LISA B OF WE TV'S "LA HAIR"
Such an honor to do Lisa B's PhotoShoot!! Born into the streets of West LA, Lisa always knew she was different. Raised into a household who instilled strong family values and a hard work ethic, Lisa developed a strong personality and quick wit. Dropping out of high school at tender age of 16, she knew that could not determine her worth. Embarking on fast street life and meeting her childhood sweetheart reality hit fast, soon Lisa found herself out in the streets with two children fighting to survive. In between homes, leaving behind an abusive relationship with her children's father, Lisa embraced her streets skills to make her stronger and successful. Over the years Lisa obtained an entrepreneurial spirit, and was determined to make her own way.
A few setbacks abled her to take charge of her life to become a provider for herself and her children,  she managed to stay grounded, learning quite a bit about herself and her strong instinct developing a street wise sensibility, business savvy and survival skills. Lisa enrolled in Cosmetology school and focused on becoming an entrepreneur. Having a hustle mentality & gaining drive at such a young age turned on light for Lisa, she used her foundation to keep her focused, guarded and positive; these are the tools that continue to shape her approach at life. Soon into her adult years Lisa recognized her passion for barbering and hair care.
Not knowing much about the craft, Lisa self-taught herself barbering skills and soon opened up a few barber salons in the LA area. This added to her determination to learn the business of barbering and to continue to go farther with her skill, when word hit the Hollywood scene of Lisa's talent she was pulled onto her first Hollywood movie set of BAD BOYS, starring Martin Lawrence & Will Smith, starting as Martin Lawrence personal barber. This job allowed Lisa to get accredited into the Union and from there her career has been a ladder of success.
Not only does Lisa work on some of your favorite Hollywood sets, she also serves as the Head for hair departments on major television and movie productions. Now working on the sets of the hottest shows in Hollywood such as SOUTHLAND, Cedric the Entertainer's SOUL MAN, & BET's Hit series Real Hollywood Husband's Lisa has remained humbled by her troubled beginnings. Blessed with success, from becoming a female Celebrity Barber, expanding from local LA salons to Hollywood & International movie sets, And now the newest star of LA Hair on we tv, Lisa admits that she still has much more to accomplish.  She has always had a fetish for beauty products and has plans to develop a hair product line for men adding her signature touch to men's grooming worldwide.
Lisa also plans to launch her foundation "Reach Back Foundation" in late 2014.  "My goal is to reach back to as many girls as I can and to inspire them to NEVER give up." says Lisa. With her constant motivating scriptures posted on her social networking pages, Lisa B's following is only getting larger. She is self-made & a walking testimony that if you have faith and believe in yourself, ANYTHING is possible!
Please visit Lisa B's website http://www.thereallisab.com
>>>CLICK HERE TO VIEW THE FULL PHOTO SHOOT<<<
//////////